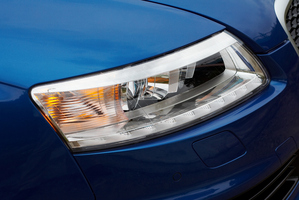 Daylight saving is here and while the days are growing longer, using and caring for your vehicle's headlights is still important.
If the car's headlights are faulty or not in good condition, it can affect your driving and the impact you have on other cars coming towards you.
Bruce Walker, the sales manager of auto accessories company Griffiths Equipment, says headlight care is essential.
"People just have to make sure they take steps to care for their headlights. Adjusting them correctly, replacing bulbs, cleaning them of grime and making sure they are working properly," said Walker.
Many new cars have LED, made up of many tiny bulbs, and Xenon, which uses an arc of high voltage current rather than a metal filament to produce light, but headlights come in all shapes and sizes.
Here are a number of things to look out for, so you can brighten the condition of your headlights.
Condensation
During wet weather, water may start to leak in if the rubber surrounds are in bad shape. A build up of moisture or water inside is a tell-tale sign of leaks. Depending on the type of car, you may have to remove the headlight itself and unscrew the lens to get inside.
Clarity
While exposed to road grime, airborne pollution and oxidation from UV sunlight, headlight visibility can reduce over time. Motorists can increase the vision of their headlights by simply restoring the clarity of their lights. Using soap and a rag can work but using an appropriate glass cleaner is most effective. Headlight cleaning products can be purchased from all good automotive specialist stores.
Direction
Sometimes headlights are not as effective if they are not pointing directly ahead. Experiment by parking your car facing a wall or in your garage and turning your lights on. Open the bonnet and use a screwdriver on the bolts to move the lights either up or down.
Cracks and scratches
Severe cracks and scratches never look good. Not only will this mean a failed WOF, but if left unchecked, could result in potential damage. Automotive glass specialists are your best bet.
Light bulbs
Regularly changing bulbs is another way of keeping those headlights in good shape. New bulbs can be bought from automotive specialist stores such as Super Cheap Auto and Repco. If the bulb is fine but not working, a new fuse may be required.