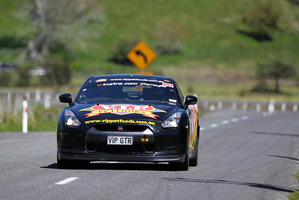 Events like Targa are vital to the future of Kiwi motorsport. There's nothing quite like the rolling roadshow of racecars as they cover over 1200km of normal roads as well 650km of closed special stages to lift the profile of motor racing.
Like any sport, motorsport has factions within factions that rabidly believe their particular discipline is the best. Sit down at a pub with a rally driver, a circuit racer and a quarter mile bloke and see what happens. Then duck.
But when we live in a country that is more focused on oval shaped balls, and any attempt to get serious public involvement in the sport results in finger pointing, resource management tantrums and, eventually, debt, it's good to have something that can inspire the next generation of racers and fans.
It's great to see unapologetic rev-head Kim Dotcom getting involved with the 19th running of the four-day Targa just around the corner. The event provides awesome action across the North Island every year, with most competitors racing for the sake of the race rather than glory.
Bragging rights, obviously, are pretty important as well.
Cars from the most modest of budgets have proven to be real contenders over the years - - proving that it's not all about the chequebook. Ordinary vehicles have been turned into Targa weapons, while others have been ground-up builds from focused and finicky veterans.
The fact that the cars get all over the countryside, stop in key locations for people to have a chance to talk to driver and teams make it a truly community-focused event.
We'll be covering Targa in Driven and on the nzherald.co.nz/driven webpage. If you happen to be snapping pics of the cars and people, feel free to share them on our Facebook page at facebook.com/DrivenNZ.
On another equally racy note, it's that wonderful time of year when the best drivers in Australia and New Zealand go head to head at arguably one of the most challenging tracks in the world. Mt Panorama for one lap is serious business. Best of luck to the Kiwi drivers in the hotseat on Sunday for the Bathurst 1000 - it's screening on Sky without ads.