We canvassed nearly all the local V8 SuperTourers field and here's what they had to say about who will take out Bathurst 1000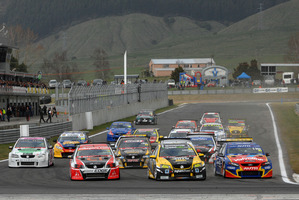 Angus Fogg: Craig Lowndes and Warren Luff at Triple Eight are the best team. My outside pick are Chaz Mostert and Dale Wood (my co-driver in our series) as DJR [Dick Johnson Racing] have a strong record at Bathurst. With FPR [Ford Performance Racing] technical input they could be in with a chance.
Paul Manuell: My picks are Garth Tander and Nick Percat. I sort of have to say those two as Percat will be my co-driver at the next V8 SuperTourer endurance round but I think overall they're in with a good chance.
Jono Lester: I think with the way the Holden Racing Team and Greg Murphy perform at the mountain he and James Courtney will be a force, provided they don't use their car as a pinball again.
John McIntyre: I'd never back anyone else but myself and Alex [Davison] - otherwise no point going. It's going to be extremely hard though, up to half the pairings could win with these new cars.
Greg Murphy: Obviously I will win Bathurst. Best opportunity I've had in a few years - James Courtney is on fantastic form and the car is fast and consistent. Also 10 years since the 2.06.85!
Craig Baird: Jamie Whincup and Paul Dumbrell for the win. In my mind Whincup is the most complete driver in the category who is at the top of his game. He's also with a team who back him up and leave no stone unturned.
Tim Edgell: For the win, my money's on Whincup and Dumbrell. After Sandown it appears that Red Bull and Triple Eight are starting to get a handle on the new Supercar chassis. We'll obviously be backing our awesome co-driver Lee Holdsworth and his teammate Craig Baird. They definitely have top-five potential and I'll be backing them all the way.
Simon Evans: Whincup and Dumbrell are going to be hard to beat. Winning last year and dominating at Sandown means they will be carrying the momentum. There are, however, a few dark horses in the field and I think it's going to be tighter than ever this year.
Simon McLennan: Bathurst picks for me are Whincup and Dumbrell. Whincup's the champ and Dumbrell is a top co-driver. The race is 161 laps long and Red Bull Racing Australia is a top team with top personnel.
Richard Moore: The logical picks would either Whincup or Lowndes, but for me Murphy and Courtney could be the rapid ones. Courtney's going bloody good at the moment and Murph always comes alive for Bathurst. It'll be a good watch.
Daniel Gaunt: I reckon James Courtney and Greg Murphy will the ones to watch at Bathurst. Courtney is exceptional at Bathurst and HRT and getting on top of their cars. When you pair him with a fella like Murph you have two very good guys around there. Courtney hasn't won it yet but he's been on the podium and qualified well there.
Ant Pedersen: I think the Red Bull Racing guys as well as the Ford Performance cars will be strong. However, I'm going with my co-driver [V8 SuperTourers endurance rounds] Chaz Mostert [driving with Dale Wood] and of course any of the Kiwi drivers.
Andrew Waite: I would say the obvious pair would be Dumbrell and Whincup after their last performance. There will be a few dark horses like Tim Slade and Andrew Thompson and of course I hope Shane van Gisbergen [with Jeroen Bleekmolen] have a good run.