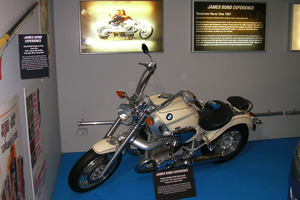 Where would the James Bond movies be without the cars 007 drove?
One of these stars, the car the British spy drove in the movie On Her Majesty's Secret Service, will be on display in Melbourne this month as part of RACV Motorclassica.
The 1969 Aston Martin DBS Vantage, owned by an Australian, was driven by fellow Aussie George Lazenby.
"Bond's Aston Martin DBS Vantage has a special connection with Australia - it was driven by the only Australian actor to play James Bond, George Lazenby," said RACV Motorclassica's Paul Mathers.
Lazenby only appeared once as Bond due to a personality conflict with the producers.
A 1997 BMW R1200C motorcycle ridden by Pierce Brosnan in Tomorrow Never Dies will also be on display.
Motorclassica is said to be the country's premier classic car event, mixing rare and exotic, historic, vintage, veteran, classic and collectable cars and motorcycles, plus automotive memorabilia, models and other collectibles.
Both vehicles will also be part of the exhibition, Designing 007: Fifty Years of Bond Style, which showcases the design and style of the James Bond franchise and the craft behind the sets, the music, gadgets, vehicles, technology and fashion over the course of five decades. The exhibition opens at Melbourne Museum on November 1.
The 1969 Aston Martin DBS will be at Melbourne's Royal Exhibition Building from October 25-27 as part of the 2013 RACV Motorclassica.
-AAP