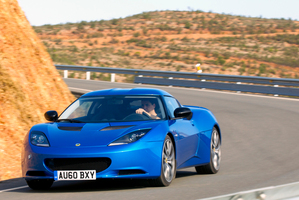 A couple of years ago the country's Lotus tragics were happy to hear of the brand's long-awaited official arrival in New Zealand.
Driven took a hit for its readers and spent a few days belting around the Lotus test track at Hethel in the UK, poring over future cars in its design studio and drooling over F1 machines of days gone by in its heritage museum. This was due to the imminent launch of Lotus in New Zealand and Australia. Long story short, the Aussies got a lot of Lotuses, we got nothing. Until now.
The brand has now been officially launched with a single dealership in Auckland. Plans to open another in Christchurch have gone by the wayside for the moment, but the Auckland showroom on Great South Rd, Newmarket, is now open under the guidance of James Berry, who brings masses of exotic car experience to the brand.
"It has always been our plan to launch Lotus in New Zealand as part of our business on both sides of the Tasman," explains Neville Crichton, head of Australasia's largest independent car importer group of companies, which include Lotus importer European Automotive Imports, the Ateco Group and the freshly minted FiatChrysler New Zealand.
"However, before doing so we wanted to ensure that the full range of Lotus models was correctly positioned for the New Zealand market in terms of price and equipment, there was full and free supply of those models and that we had the ideal representation in New Zealand for Lotus."
Lotus has been through the mill in recent years, with CEO Danny Bahar punted by the company's backers over dubious business practices during his time at the helm.
This hasn't helped the brand's progress towards finally getting an official Lotus distribution in New Zealand, but it has now happened, and the stunning Elise, Evora and Exige models are now on sale.
Lotus' track history was built around superlight bodies and razor-sharp handling. The little Elise - considered by many the best-handling car on the planet - will kick off for $86,990. That's the 100kW baby of the range (ex-dealer costs). The 162.5kW 'S' version will come excluding dealer costs, and the supercharged Elise S with 162.5kW will come in at $96,990.
The stroppy Exige - basically an Elise with a hard top and a bit more muscle, sports a supercharged 3.5-litre V6 engine that punches out 257.5kW and 400Nm of torque with a weight of less than 1200kg - supercar performance for $131,990.
The stunning Evora - which those with a taste for spy comedies will recognise from the TV series Chuck - will be here in a few flavours. The base version with a naturally aspirated V6 making 206kW will sell for $129,990 with a six-speed box; it gains a self-shifting gearbox to become the IPS model. Then there are auto and manual versions of the screaming supercharged V6 monster Evora S with 257.5kW from $153,990.