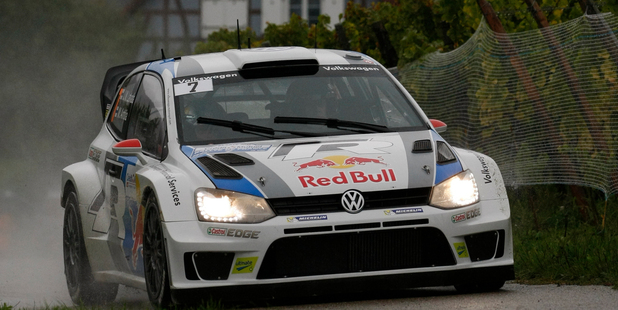 Jari-Matti Latvala of Finland made the best of changing conditions to lead the Rally France on Saturday, but Dani Sordo of Spain and Frenchmen Sebastien Loeb and Sebastien Ogier are still in contention.
Latvala leads Sordo by 0.4 seconds, new world champion Ogier by 1.5 seconds and Loeb by 5 seconds. Thierry Neuville of Belgium held the top spot in the morning but punctured his left rear tire to slip to fifth place, 1:10 behind Latvala.
"It's incredible the kind of fight we're having," Latvala said. "It's one of the greatest rallies I have been involved in. I was perhaps too cautious on a couple of stages but the main thing is I made no mistakes. I've dug out some little things that have been missing from my driving."
Latvala has not won any stage this week. The Volkswagen Polo driver finished second last year in France.
While pilots faced wet and foggy conditions in the morning, the road started drying in the afternoon with plenty of mud on the inside of corners before rain returned for the late stages.
"We slid slightly wide in a right-hand junction and hit something, a stone or something," said Neuville, who won stage 13 on Saturday. "It pushed the tire off the rim, it deflated and then it was finished. It's not possible to win any more."
Ogier clinched the world title on Thursday when Ford Fiesta driver Neuville failed to win the power stage. The Frenchman trailed by 28.7 seconds after Friday but won five of Saturday's seven stages to make up ground.
Meanwhile, nine-time world champion Loeb earned his 900th career stage win on Saturday.
"It was raining like hell in there, so bad we were aquaplaning," said Loeb, who took stage 10. "It's a close fight now and of course we'll do what we can (to win)."
Loeb has run only four rallies this season. The Citroen DS3 driver won in Monte Carlo and Argentina and was a runner-up in Sweden.
The Rally France ends on Sunday with six stages.