The Harley Breakout has character in spades, writes Jacqui Madelin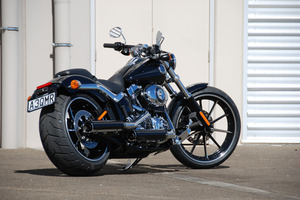 Harley-Davidson's Breakout occasionally feels like a triumph of style over dynamics, but there's no denying H-D got its lines right. This could be the leanest, longest, lowest standard Harley ever to leave the production line. Its austere lines are enhanced by the black paint slicking those wide, flat bars and the sliders, silencers and oil tank to create a chrome-on-black theme for this mighty 1690cc 45-degree air-cooled V-twin.
Mentally apologising to the Breakout for my lack of tatts - and the muscles to apply them to - I swung a leg over, turned the ignition and fired it into that typically rumpy-pumpy idle so typical of the brand, then pulled away. And immediately Houston, we had a problem, for though the capaciously padded seat sits just 660mm from the ground, this bike really doesn't suit a 1.66-metre shorty like me.
It wasn't so much the reach to the forward-mounted foot controls that was problematic, but the stretch to those bars. Folding like a hairpin to reach everything works reasonably well in a straight line, but turning out of a junction had me wishing I was built on rangier lines.
Longer arms would certainly have been handy - and again when accelerating on to the highway, when the 132Nm torque hit through 3000rpm shifted me backwards, as each mighty 98.4mm-wide piston thumped through its stroke.
But I soon got comfy enough. The two top gears and the twin contra-rotating balance shafts make for a smoother-than-expected cruise, and better yet, folded up like this I didn't catch the wind as I would in a more traditional upright cruiser style.
With the spring sun glinting off the minimal instrument dial and gleaming on that rich black paint - Harley certainly applies a quality finish - and with the engine's rumpa-rumpa-rumpa between my knees, all was well with the world, the bike tilting easily into open bends and powering out. I felt awash with go-for-it attitude.
Trouble is New Zealand roads aren't all about lazy highways, and the Breakout is less happy traversing our typical back roads. For a start, the brakes could be better - you'll need that rear to supplement the fronts. But more intrusively, the bike's looks bring with them a handling compromise. For some of the menace comes from stretching the rear rubber across a rim that's 240mm wide, then pairing it with a skinny 21-inch front wheel.
That Big Daddy back tyre asserts its presence over every bump and round any tight corner, the effect as if every one of this bike's 322kg sits behind you.
It took a few kays to get used to the emphatic riding style required to muscle the Breakout through tighter bends and across lumpier surfaces. But once you do, you'll develop a grudging admiration for how well such a bike handles given its counter-intuitive design.
Don't get too confident though - Harley quotes a 23.4-degree angle of lean and you'll scrape those footboards early. You'll also need to get used to the brakes, and using the rears to supplement that front. But then that's part of the Harley mystique; you don't buy one to access the most power, the highest top speed or the best stoppers.
You're paying for character - - and for looks. This $31,995 bike features the classic lines of a 1950s or '60s dragster, from the flat bars and tiny indicators to the Gasser wheels, the twin gun-barrel mufflers and that softail format, hiding the rear shock beneath the gearbox to replicate the hardtail machines that helped create the Harley legend.
Sure, the Breakout won't keep your pillion happy for long, and it isn't designed for typical Kiwi back roads. But if it's looks and character you're after, it delivers in spades.