A reliable garage will help you space out non-essential work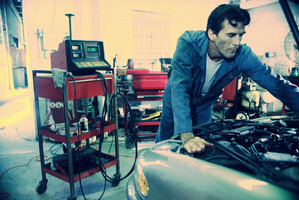 The dilemma: Bob is looking for advice on car servicing and maintenance and wonders if Driven can offer some help. He realises the importance of having his 2002 V6 petrol car serviced regularly but wonders if items such as the regular oil and filter change can be stretched without compromising reliability.
Hourly rates at his local garage are on the rise. He accepts that but it does place a further financial strain on the family budget.
In addition it seems every time the car is in the garage he receives a phone call recommending some additional work be carried out.
Bob asks if he will be any worse off skipping the recommended six-monthly services and dealing with problems if and when they arise.
The big risk with delaying a recommended service is that your vehicle may break down at the most inconvenient time.
And often one mechanical failure can create additional problems.
For example, loss of water because of a split cooling-system hose can cause a severe engine overheat which is a repair you definitely need to avoid.
Regular servicing doesn't guarantee you won't have a future mechanical failure, but if the car is being serviced by a trusted garage it does reduce the risks.
The key is finding that trusted service provider, a business that will view a customer as a long-term investment rather than trying to make every visit a financial bonanza.
Often, recommended work can be stretched out to give owners time to save for the additional repairs.
Cambelts, cooling systems, brake fluid and brake linings are examples of items that suffer from fair wear and tear and can be an additional cost to a routine service.
Yes, they may need attention, but rarely is it imperative for them to be done at the same time.
If your service provider is doing a proper job and values your business long term, they should be able to place recommended work in some sort of priority and explain why it should be done, and what work could be left a little longer.
You, as the owner, then have the responsibility of returning the vehicle within the recommended timeframe.
Engine design can also impact on service and repair costs.
A V6 engine has its definite driving advantages but the reality is they cost more to service.
Even changing sparkplugs can be a major deal on some V6s and removing a cylinder head means you double the workload compared with a conventional in-line 4-cylinder engine. Not every 4-cylinder engine is basic or cheap to service either. There are some that have 8-sparkplugs and individual coil packs.
Delaying replacement of the plugs can place a load on the coil packs and an ultimate expensive failure.
Most petrol vehicles should be able to go at least 12 months or 10,000km (whichever comes first) before changing the engine oil and filter, provided the correct grade and quality of oil is used.
Long-life coolant can mean a 10-year life span, while transmission fluid does not require replacing as frequently as it used to. Your service provider should be aware of these things and only make recommendations on an as-required basis.
Some garages that are passionate and very knowledgeable about vehicle servicing and repairs often lose customers to competitors who advertise cheaper get-you-in- the-door options.
But the final bill can often be a lot more than expected.
On top of all that, if you are thinking of upgrading your car because of high service costs
make sure the replacement vehicle gets a thorough check to ensure you are not going to pick up an expensive repair bill the seller is trying to avoid.
Bottom line
Vehicle servicing is all part of ownership; finding a service provider where good communication is equal to job quality will go a long way to reducing stress and financial pressure.