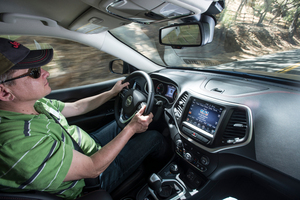 Safety features have become one of the most important considerations for buyers when choosing a car. As vital life-saving technology has taken hold, it's becoming increasingly difficult for newbies to get to grips with how a car behaves when it's not being dictated to by a bunch of zeros and ones.
This binary invasion, it seems, is aimed at keeping the worst drivers out of trouble and dumbs down other drivers who become complacent and reliant on safety gear.
But the quality of some of these safety systems is getting so high that there's a lot that should become default on all vehicles. Stability control is vital, reversing cameras, lane departure warnings and collision avoidance systems should be compulsory.
Like many Driven readers, I do rather miss the cars of old that you could throw around without a microprocessor stepping in and spoiling all the fun - but I do like the peace of mind that comes with knowing that the bulk of drivers around me are reined in by management systems.
After all, many of those on our roads seem to have a default setting of "utter stupidity" and shouldn't be trusted with total control of their cars.
Others shouldn't even be in charge of a shopping trolley.
A Mercedes-Benz launch this year had us getting the company's highly advanced and expensive S-Class saloons up to 70-odd km/h and then letting go of steering wheels and seeing if the cars missed targets such as pedestrians (not real ones) and other obstacles. Every time, without fail, these systems worked. And the company's engineers pointed out that if legislation allowed, they could get rid of the most unreliable part of a car - the muggins behind the wheel.
Give us safety systems that make us safer drivers, make other people less likely to get in our way through their inability to operate steering wheels, and give us the power to turn the systems off when we fancy more involving driving experience.
Take a look at this week's cover story, where we go through the current crop of accident-avoiding tech, and let us know what you reckon about what car manufacturers can do - and what they should look at moving forward.