Consistency pays for pair who clocked up points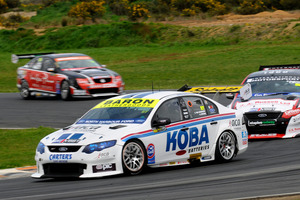 The opening stanza of the V8 SuperTourers endurance component of the 2013 series was packed full of the good, the bad and the ugly.
The weekend at Hampton Downs had everything from broken gearboxes and axles, through some close and spectacular racing to suspect decision-making.
Staying out of trouble and consistently picking up points over the three races was the key, with the V8 Supercars pairing of Shane van Gisbergen and Alex Davison reiterating the old adage that points mean prizes by taking the round win without getting on the podium all weekend.
The Kiwi-Australian duo made the most of a less than perfect car, and the trouble that beset the quicker machines, to post two fourths and a fifth over the three races.
"We didn't have the car to challenge for wins, there were a lot of little things but they add up," said Van Gisbergen.
"It was due to others' misfortunes and it was just our consistency that helped to get the round win and it's good points for the championship."
Davison added: "It would have been nice to win races as well as the round, but the car did not have the balance to run right at the front."
Other leading contenders, including series points leader Greg Murphy, with co-driver Jack Perkins, suffered various mechanical failures. They won Saturday's sprint race but came unstuck with gearbox dramas in race two before placing third in the last race of the weekend.
"It was hard work out there and Jack [Perkins] was struggling with the car as well," said Murphy.
"It was good to see three different winners from three different races. The DNF didn't help us and the race we won was worth fewer points than the two on Sunday. It was great to win, but overall the weekend has hurt our championship."
V8 Supercars' driver Lee Holdsworth helped the Tim Edgell camp to their first win of the season in race two. They too had their problems in race three before coming home in 15th.
"Lee laid down a good platform for me take over," said Edgell. "I didn't actually have a radio for the race so I didn't know what was going on and just plugged away. These cars are so temperamental but this weekend it's just on rails.
"Obviously Lee's input has been amazing and he's brought a whole new level of experience and engineering to the team. There's quite a bit of action out there and staying clean is half the battle."
Prophetic words indeed, as when Edgell was being passed by Jonathon Webb in race three, the Aussie hit the grass and careened straight into the car of Andrew Waite and Daniel Gaunt, who had recorded good finishes in both the opening races.
The Supercheap Auto entry of Scott McLaughlin and Webb were up to that point in the weekend in with a chance of taking the round honours (second and third places).
"Without a doubt we'd love to get back out there in October," said McLaughlin.
"Jono and I proved that the car was worthy of a top spot finish this weekend, and it's purely bad luck that we're battling this season.
"We don't want that to stop us, and we're keen to shake whatever seems to be plaguing us at the moment off and finish the season on a high we know we can achieve.
"I think everyone can see it's the racing not the driving that took us out of contention and we'll just have to take the next week to see if returning to Hampton Downs is possible.
"We'll be sure to let our fans know as soon as a call can be made."
The International Motorsport pairing of Ant Pedersen and find of the V8 Supercars' season, Chaz Mostert, had their ups and downs as well, suffering an axle failure in race one before coming back to claim third in race two and take the win in race three.
Young driver Richard Moore was rapt to finish second overall, sharing his car with V8 Supercars pilot Tim Slade.
"I had to pinch myself when I was chasing down Jack Perkins," he said after finishing second in the final.
"It's so hard to compete with these full-time professionals [the Supercar drivers] when we only have seven meetings a year, but every time I get in the car we make a step forward."
Murphy retained his overall championship lead at this fifth round of the Hankook Super Series after earlier winning the four-round sprint series and - despite his non-finish - coming fifth in the first of three endurance rounds, which complete the overall championship.
V8ST points

1 Murphy 2722
2 Pedersen 2648
3 Van Gisbergen 2584
4 Gaunt 2001
5 Moore 1927
6 Heimgartner 1868
7 McLaughlin 1613
8 John McIntyre 1431