Old Ford versus Holden rivalry has taken a new twist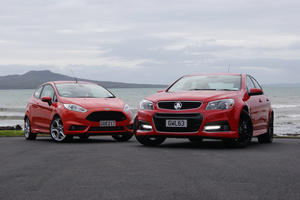 It's a performance-car battle, Ford versus Holden: exactly the sort of head-to-head that's been raging for decades, right?
Well, yes. But really, no. Things have changed.
Australian muscle cars have been part of the landscape for so long that a new hot-Falcon-versus-hot-Commodore comparison has been a given with each new model.
No longer. Ford's performance focus (pun intended) is no longer on Falcon, which will cease production in 2016. The XR6 turbo will carry through Falcon's 2014 facelift and FPV still exists - for now. But the Blue Oval is putting most of its energy into smaller, more nimble performance machines as it establishes its global ST brand in Australia and New Zealand.
The first ST to be sold here was the fabulous Focus. But the latest is more exciting still: the Fiesta ST, which packs a punch from its 1.6-litre EcoBoost turbo engine and rides on an outrageously talented chassis.
Holden does small cars too, of course; even some warm hatchbacks. But the Aussie maker is also committed to its new home-grown VF Commodore for the next few years and the brand's hero performance models are still big rear-drive V8s.
But don't mistake the Commodore SS V for being completely old-school. It's now an incredibly sophisticated car, especially in flagship Redline form. The Redline brings factory-standard Commodore closer to the more specialised Holden Special Vehicles (HSV) products, combining a 6-litre V8 with a wealth of driver aids and new-generation electronics.
The point is not that the $34,990 Fiesta ST and $74,490 Commodore SS V Redline are direct rivals. But they are enlightening because they represent the pinnacles of their model ranges in driver appeal, while illustrating the very different paths these two brands are taking.
So we can't help but ask: which of these cars gives you a greater smile?
If outright speed is your thing, there's no contest. The Holden makes 260kW/517Nm and can rocket to 100km/h in 5.5 seconds. The Ford makes 134kW/240Nm (or 149kW/290Nm during brief overboost periods) and covers the same sprint in 6.9 seconds.
Weight is normally the enemy of driver entertainment, but Holden has gone all-out to make this new Redline a proper road and track machine.
It has a bespoke state of suspension tune, it's the first Commodore to have a staggered tyre setup (245/40 at the front and 275/35 at the rear), the steering has been recalibrated and there's a special performance mode for the stability control. Stopping is not a problem, with heavy-duty Brembo brakes. You can really feel the depth of engineering in the Redline. Perhaps it's not raw enough, but instead you get a highly polished driving experience that gets better the harder you drive.
It would be an insult to call it a muscle car, because straight-line speed is merely a bonus in a sophisticated package.
The Fiesta has benefited from its fair share of fettling as well: the ST gets specific steering, suspension and braking components. It has a three-stage stability control system and an upgraded version of Ford's torque vectoring system, which automatically adjusts torque delivery to the driven wheels side-to-side for greater traction and control.
Sophisticated? Not really, although that's meant in a good way. Cheeky is more like it: the Fiesta is a true point-and-squirt hot-hatch, one that rewards smooth driving but is happy to be chucked into a 35km/h corner and do a little chassis-dance as you figure out the most entertaining way to exit.
The Redline feels special on the road, while the ST feels like a lot of fun. That's pretty much how you feel sitting in the cabin of each car as well. The Holden has its share of cheap plastics, but they're covered up with pseudo-luxury trim inserts. The Redline is laden with high-tech gear: colour head-up display, Bose audio system, self-parking technology, lane departure warning and forward collision alert. The MyLink touch-screen infotainment interface is outstanding.
The Fiesta's budget-hatchback origins are all too clear: brittle trim, dour tones and a workaday ambience. It does have Ford's Sync voice control technology, but only in first-generation form. However, who cares when the important stuff is there? The ST boasts fantastic Recaro seats and the six-speed manual gearchange is super slick.
THE BOTTOM LINE
In terms of entertainment, you cannot beat the tremendous little Fiesta ST. Ostensibly, it's the winner. But the Commodore has reached its sporting-sedan zenith with the Redline. It's a magnificent achievement and if you have ever wanted such a car, buy it now. Because sadly, the days of Aussie V8s are numbered.