Jacqui Madelin is thrilled to ride in this gorgeous 1968 Mustang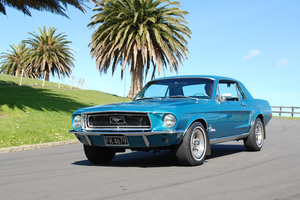 There's a back story to every classic that becomes a part of the car's character and explains why the good ones worm their way into your hearts, to the point owners consider themselves a caretaker for a bit of automotive history.
That back story can even ensure the car's previous owner lives on - as is the case with Aucklander Peter Hutson's Mustang.
Peter's wife, Terry, came home from work one day and showed him pictures of a 1968 two-door hard-top Mustang that a colleague was selling.
As soon as Terry saw them she knew her husband would be interested. The couple rang the owner, Gordon Mooney, who insisted they bring some VB beer over for the car inspection.
Gordon had had the car nine years, "doing 10,000km in it and never letting anyone else drive it".
Negotiations began immediately.
"Gordon was drinking the beer, smoking and using the F-word freely but wouldn't accept our offer, and it was starting to get away on us, but we did agree on a price," said Peter. "I had to promise not to take it out in the rain, or at night, and not to wash it with water."
Peter hadn't even driven it yet and as it was dark Gordon didn't want dew on it. But after a few hours' test drive, the couple loved it.
But there was a sad tale behind the sale.
Gordon had terminal cancer, and was selling the car to help pay for renovations to the house so his wife would be comfy after he'd gone.
"He gave us the floor jack, polish, the original owner's manual, everything that went with the car - all he wanted was those photos back. He cried when we took the car," said Peter.
It's no wonder Gordon cried.
The Mustang is gorgeous and completely original, from the 4.7-litre (289ci) V8 with a four-speed column auto change to the Gulfstream Aqua metallic paint - with a few tiny blemishes - and the Lt Aqua crinkle vinyl.
The only thing that changed was the wheels. The originals were stolen in 1986, though replaced with genuine Ford five-spokes.
The boot badge is the original dealer badge, and there's even the original manufacturer info sticker under the boot lid.
It was sold to a NZ airman based at Christchurch in December 1968,with 14,611 miles on the clock, by Pollard Friendly Ford at Wichita Falls, Texas - it's only had six owners from new.
There's power steering, air-conditioning and hazard warning lights. The two-part seatbelt - a lap and clip, the separate sash hooked to the ceiling has its own clip - is standard.
Peter put a brake booster on - "it was all drum brakes" - and he was tempted to fit a decent stereo, "but what you drive the car for is the sound".
Yes, it does sound absolutely gorgeous purring along in the sun, and emitting a feral bark when Peter puts his foot down - briefly, because by heck it picks up speed.
You make new friends owning a car like this - even before Peter joined the Mustang club.
"The guy who runs its website broke down opposite my house."
Peter and Terry don't do long trips in the car. They cruise Tamaki Drive and do local runs, but don't want to rack up too many kilometres.
And they're trying to follow Gordon's instructions, though "we have driven it at night, to a night rod event". Yes, they did wipe all the dew off afterwards.
"Gordon was mortally afraid of that and yes, we've been in the rain but it's a car, it doesn't leak and it's got so much polish on it the water just drains off."
Mind you, Gordon's ghost is clearly still around with its spectral VB in hand. "We brought the car to his funeral, and his wife said Gordon would have known it was there."
As for Peter, "I've only had it 18 months. My time is still to come!"
Mustang Car Show, Te Pai Courts, Henderson, September 29, 10am to 4pm, adults $10, families $15
www.facebook.com/akldmustangownersclub