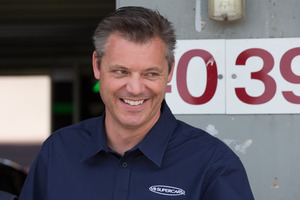 The V8 Supercars' return to the spiritual home of New Zealand V8 racing was an unqualified success this year and the organisers have another surprise for motor racing fans.
The 2014 event at Pukekohe Park Raceway will be moving from its mid-April date to coincide with Anzac weekend, April 24-27.
New V8 Supercars' CEO James Warburton has done a deal with the New Zealand Returned and Services' Association for next year's ITM 500 event, which will have an extra race over the weekend.
Driven caught up with Warburton to have a chat about the changes to the New Zealand round of the series.
What was the thinking re linking the New Zealand V8 Supercars round with the RSA?
We are very excited about racing on the Anzac weekend for a number of reasons. It's our way to lend support to the RSA and acknowledge a very significant day for both countries.
The RSA is incredibly supportive and really looking forward to it.
How did you go about approaching the RSA?
Our events team worked with Auckland Tourism, Events and Economic Development (Ateed), our event partners, and the RSA to ensure the legend of the Anzac is respected and remembered.
What was their initial reaction?
They were extremely receptive and excited. We will now work with the RSA, Ateed, Government and our major naming rights partner ITM on making it a very special weekend.
There have been a few changes announced for next year including the dumping of the, at times, unpopular 60/60-race format. Why the introduction of new race formats so soon?
The 60/60 format was a success in many ways but had its faults in others. We wanted to ensure all races are contested for championship points, which was one of the aspects the teams and drivers had asked for. We also wanted to standardise formats so that spectators and viewers know what they are going to be watching at the SuperStreet, SuperSprint and PIRTEK Enduro Cup events.
(SuperSprint events are two 100km races on Saturdays with a single 200km feature race on the Sunday, with the exception of the Auckland race, which will include an additional 100km race across the Anzac weekend.)
What sort of turnout are you expecting for the Friday race?
That will be decided in due course but being Anzac weekend it gives people the opportunity to come along on Friday, should there be a race that day. A programme and event details for Auckland has yet to be confirmed.
There was a good turnout for the New Zealand event this year. What sort of crowd number improvement would you be looking for in 2014?
By accounts it was a tremendous success and of course we are always looking to build. Using that as a gauge, we would like to think it could be bettered and that by staging the event over a long weekend and the success of this year will encourage more people to come.
There was a rumour at Sandown that the Kiwi date might change, obviously it isn't next year, but has there been discussion around moving to a November date?
We have locked in the calendar for 2014 and will look at 2015 next year. At this point the New Zealand date remains April.
You've had your feet under the table for a bit now - a good decision to move into motorsport, or more of a "bloody hell, what have I done"?
Not at all, I am really enjoying it. The product is fantastic, the racing is exciting and the events are great. It has been really good to be able to lock down and secure all of our major events during the consolidation period; now it is time for innovation and growth.
New Zealand will be the fourth stop on the 2014 V8 Supercars' championship calendar following the Clipsal 500 in Adelaide, Tasmania 400 and Winton 400 and will include a shift towards twilight racing. A minimum of five Saturday twilight races are possible in 2014 and V8 Supercars will announce timings of all races early in the New Year.