Top drivers demand better controls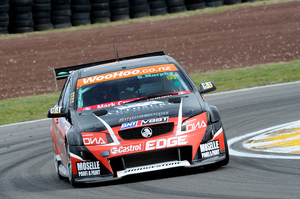 The second V8 SuperTourers series within a series cranks into action this weekend at the Hampton Downs circuit while the three-round endurance component of the overall Hankook Super Series will see a number of Australian V8 Supercar drivers making their debut.
Four-time Bathurst winner Greg Murphy took out the sprint title from local driver Ant Pedersen and Australian-based Tekno Autosport pilot Shane van Gisbergen. Defending V8 SuperTourers overall series champion Scott McLaughlin recently hinted he'd had enough of the poor driving standards in the category and was sick of being punted off by other drivers for no other reason than bad decision-making.
Two weeks ago, team director Wayne McLaughlin said there was a need for those running the category to take a hard line on race regulations after having to foot a bill for $30,000 of damage during race three in Taupo.
After McLaughlin senior's concerns, others in the category have mentioned the need for greater support in tighter controls of rules, and penalties for rule breakers.
"Taupo was tough. There have been some difficult considerations for us to tackle collectively alongside sponsors, but our determination to be here and be at the top hasn't changed," said Scott McLaughlin. "I think there's some residual frustration from us as well as others that needs to be addressed if racing at the highest level of competition in New Zealand is going to remain sustainable for V8ST teams."
McLaughlin is sharing driving duties with Van Gisbergen's Tekno teammate Jonathon Webb.
Another young gun making waves in the Australian V8 series, and also a race winner, is Chaz Mostert who's buckling up with sprint series runner-up Pedersen.
Mostert is delighted with the opportunity to broaden his experience with international events. "I've been watching the series for the last year or so and it looks like it's pretty close and obviously Ant is doing really well this year so I'm excited to be involved," he said.
Another V8 Supercars regular crossing the Tasman is Erebus Mercedes team driver Tim Slade, who's linking up with Christchurch driver Richard Moore.
Jack Perkins and Paul Morris are coming to co-drive with Greg Murphy and fast teenager Andre Heimgartner respectively. Both are now in the V8 Supercar Development Series though they have experience in the top category.
Mitch Cunningham is making it a family team as he brings older brother Wade back from the US to co-pilot with him and former A1GP driver Jonny Reid rejoins the SuperTourers to partner Simon Evans. Former NZV8 champion John McIntyre has snapped up the services of Jono Lester.
The endurance series starts this weekend with the Waikato 400 meeting, resumes at the same track on October 19-20 and concludes at Pukekohe on November 29-December 1. The first two events will consist of two races each 200km in length and the Pukekohe 500 features two 150km races followed by one of 200km. In each race teams have to make at least one stop for fuel and a driver change.
Points
1 Greg Murphy - 2269
2 Ant Pedersen - 2095
3 Shane van Gisbergen - 2015
4 Daniel Gaunt - 1642
5 Andre Heimgartner - 1470
6 Richard Moore - 1361
7 John McIntyre - 1309
8 Paul Manuell - 1220