This weekend is all about strategy, writes Eric Thompson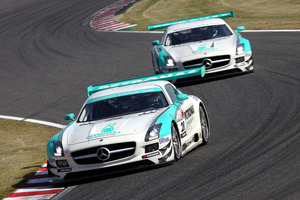 Sports car driver Jon Lester is back in Japan for round six of the Japanese Super Taikyu Endurance Series at the Suzuka circuit near Suzuka City.
Lester and his Petronas Syntium Team have their Mercedes-Benz SLS AMG GT3 at equal first in the championship.
This weekend's event differs from previous endurance rounds as there are three races over the weekend with the total points adding up to the same amount of a single long-distance race. It's going to be all about strategy for the Kiwi racer and his co-driver Fariqe Hairuman this weekend.
"We've been pretty successful at Suzuka in the past," said Lester. "In the short form of the competition we've won everything we've been in so the sprint race format is a successful one for us.
"The Suzuka circuit really does suit our car probably the most of every track in Japan and we found last year it was a very easy circuit to get into a nice groove for both me as a driver and the car itself."
Lester and his team are heading into the high-pressure stakes at the pointy end of the championship, as Suzuka is the penultimate round of the series. Co-leading the series with just one round to go means Lester will have to be on his game and really make a stand this weekend. The last race of the season is the three-hour endurance event at Autopolis in November, so a bundle of points this weekend would be a handy buffer.
"It's very important, obviously, that we perform and I'm really happy this is a circuit we're doing it at as I think we have a really good shot at getting a couple of wins," said Lester.
It always makes for an interesting race weekend when two teammates, and their respective cars, are both in with a chance to win a title. In most categories of motorsport there will be team orders that let the No1 car take the honours. Not so in this case in the Petronas Syntium Team garage.
"There are no team orders as such, but we know there is the understanding that we are not to hit each other. Makes sense when you think about it. It would be crazy to damage each other's car, or take both of us out.
"It was a similar situation last year where we had a situation [at Suzuka] where we needed to win to keep our championship hopes alive. We found ourselves nose-to-tail that time and as long as there was no contact, or no one was impeded, we were free to race like anyone else.
"It'll be the same this year and don't forget, not only do we have to beat each other but beat the rest of the field as well."
There are three races worth an equal amount of points so the team with the most consistent race finishes will be the most rewarded. If Lester finishes first, second and third they'll be better off at the end of the day than if the other AMG GT3 car finishes first, first and a DNF.
To get it right it'll be a real balancing act that'll entail a fair amount of strategic thinking. Each driver will have to evaluate the risks and rewards in going for all three wins, or take a bit of a placing hit in order to maximise the most points over the entire weekend.
"There's still one more round to go and the way the points work it's still going to go down to the last round unless someone doesn't finish."
The Kiwi racer came close last season to nabbing the title from his more illustrious teammates but it didn't quite work out.
After a full season in the Super Taikyu Endurance Series, Lester knows all the tracks now and is even more comfortable in the car this time around.