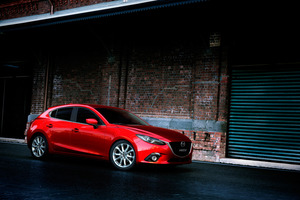 Mazda is on a drive to raise its market share in Europe after the launch of its latest model at the Frankfurt Motor Show.
The Japanese car group said it intended to become a "challenger" brand across the continent at an event hosted by Lech Walesa, the former president of Poland and Nobel Peace Laureate, and its European CEO Jeff Guyton in Warsaw.
Mazda, which is sponsoring the annual Nobel Peace Laureates Summit next month as part of its attempt to raise its profile in Europe, has only about 1.5 per cent of the British car market.
It is also marketing itself in a series of adverts, such as one featuring US athlete Dick Fosbury, who revolutionised the high jump with his "flop" style in 1968.
Guyton said: "Our biggest challenge in Europe is to get to the stage where we become known as an aspirational brand."
He pointed out that the company has 10 per cent market share in countries such as Australia, and is highly regarded.
"We will get to this level elsewhere. We want to become a stronger brand in Europe," he said. Mazda drove a convoy of its new Mazda 3 models from Hiroshima, where the company was founded and based, to Frankfurt for the motor show with a stopover in Warsaw for the pre-launch event. The month-long trip included driving through Siberia.
The new model will launch in Europe next month, and a British launch will follow for Christmas. Guyton said Mazda has just had its most profitable quarter since 2004, and now has the strength to grow globally.
The company currently sells about 150,000 cars in Europe and 1.25 million globally. It said that its mid-term goal is to sell 1.7 million a year globally.
-Independent