Mitchell Nield hopes for bragging rights at Tokoroa, writes Andy McGechan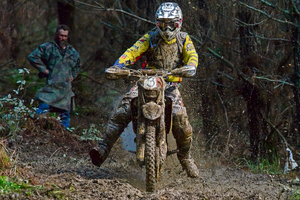 When the Enduro Championships wind up near Tokoroa this weekend it is sure to be a torrid affair.
Several of the class titles in this Yamaha-sponsored series have been wrapped up, but there is still plenty left to fight for with the honours in two classes still hanging in the balance and bragging rights always something to aim for in the forests south of Tokoroa on Saturday.
One of those riders who will be pushing hard is Bay of Plenty builder Mitchell Nield.
The 24-year-old Yamaha ace knows the outright expert-grade win and his under-300cc four-stroke class win are both out of his reach with Auckland's Chris Birch (Red Bull KTM) wrapping up the expert grade overall at the previous round near Huntly in June and fellow Aucklander Callan May (Kiwi Rider BikesportNZ.com Yamaha) securing the under-300cc four-stroke class title at the same event, but he says he still has a point to prove.
With riders able to discard their one worst result, May can afford to skip the final round in Tokoroa and still claim the under-300cc four-stroke class prize. May has finished 2-2-1-1-1 in this class in the five rounds raced thus far.
"I know I can beat Callan May ... I certainly want to make a statement," says Nield. "But there are plenty of other great competitors too, riders such as Jake Whitaker (of Wellington), Michael Skinner (of Auckland), Tyler Mills (Paekakariki) and Scott Birch (Rotorua), so it won't be easy.
"I have been in a really close battle with Callan this season, but perhaps just not close enough ... but I'm certainly faster now than I was last year," says Nield.
Auckland's Freddie Milford-Cottam is in a similar position to May. Milford-Cottam is 30 points clear of his nearest rival for the under-200cc two-stroke class title, Hokianga's Damon Nield, (Mitchell's younger brother), meaning he has now secured that title this season.
Tokoroa's Sean Clarke is 38 points ahead of Taupo's Mark De Lautour in the expert veterans' class and so he has that class wrapped up.The only two titles still left to be decided are the two open-class categories.
There are still 25 points available to the winner of each class at Tokoroa, although Kiwi international Birch is a whopping 21 points ahead of Tauranga's Reece Burgess in the battle for over-300cc four-stroke glory.
It is an idiosyncrasy of the scoring that although Birch has already secured the expert grade overall - where every round is counted and he is a whopping 37 points ahead of his nearest challenger for outright glory, Mokau's Adrian Smith - while only five of the six rounds are counted for class glory and he is still short of the magical 25 points advantage needed to claim those class honours ahead of Burgess.
However, the prospect for Glen Eden's Birch adding the class win on Saturday to his outright grade victory does seem a mere formality.
In the runner-up spot overall, Mokau's 2012 outright national enduro champion Smith is 18 points ahead of 2010 outright national enduro champion Jason Davis, of Whangamata, but, interestingly, Smith is only four points clear of Davis in the battle for over-200cc two-stroke class glory.
Smith won the national cross-country championships earlier this season but he still has a fight on his hands at Tokoroa to keep Davis at bay on both the outright and class battles.