This car rally driven with heart, writes Jacqui Madelin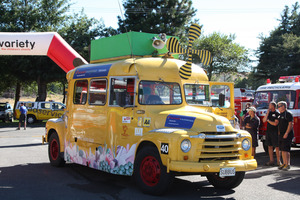 A cast of celebrities joins this year's Variety mini bash - a classic car rally with a difference that aims to raise funds for kids who need a hand-up.
The band of Bashers - so-called from the event's early bush-bashing days - will deliver grants and manpower for working bees to kids and schools from Awhitu to Port Waikato, Pukekohe to Waiuku.
Among them will be regular Bashers including TV One's Simon Dallow and comedians Mark Wright and Ewen Gilmour.
The trio are long-term supporters of Variety - The Children's Charity while Dallow has been on the Bash for the past 19 years.
"The crew are good, honest down-to-earth people giving back to help children who need a hand, wonderful, self-effacing salt-of-the-earth petrolheads who are slightly nuts and doing something unique," says Dallow.
That something unique involves working hard all year to raise funds - servicing lawnmowers, arranging off-road events, supplying manpower for stocktakes, baking cupcakes and getting sponsorship for fire engine waterfights, you name it - then taking leave from their jobs to dress up in kid-pleasing costumes and fire up their classic cars and fire engines to bring a bit of fun to lives that sometimes lack that extra sparkle.
At the same time they'll deliver assistance which many ordinary Kiwis can't afford for their kids but could make all the difference to a young life - the specialist computer for the dyslexic or deaf child; the extra books for the rural school's library; and the insulin pump that sets a teen free from daily injections.
This year will also include a piece of specialist equipment to help 14-year-old Samisoni Fuavao negotiate life at school, hard enough for any teen, but harder for young Samisoni for whom cerebral palsy combined with his 1.9-metre height makes it hard to get about.
The celebrity trio say it's all about helping ordinary Kiwi kids reach their full potential, and having a bit of fun along the way.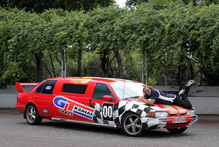 Dallow, Wright and Gilmour all seem to love helping Bashers put smiles on kids' faces in a way which, says Dallow, "makes a real connection with communities, and brings the generous and deserving together in a unique way".
You can help too - Dallow's issued a coffee challenge, to donate the $5 you'd have spent on your morning caffeine to:https://minibash2013.everydayhero.com/nz/samisoni
If you're in the Pukekohe area between September 20 and 22, drop by and see what the Bashers are up to - their progress will be updated regularly via the facebook.com/VarietyNZBash, or check out the route on variety.org.nz.