Help yourself, or help others, if you break down or crash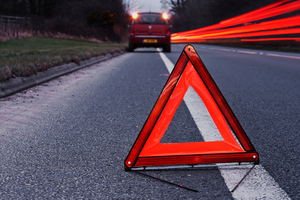 It's every driver's worry. You are driving along and your engine suddenly makes a growling noise - and you find yourself stopped on the side of the road with your hazard lights on.
You can ring an emergency service or a tow truck and wait for help - but it pays to be self-sufficient.
To help yourself out, keep an emergency kit for your car.
Motor Trade Association spokesman Ian Stronach said that too many people don't have these kinds of kits in their cars ready to go.
"Most people think accidents are things that happen to others and fail to take the necessary precautions by installing their car with an emergency kit," said Stronach.
It also pays to have a kit available to help stranded motorists or if you see an accident.
"It's really about thinking ahead to what you are likely to need, especially as you will be able to help others who may not have one," said Stronach.
Here are some essentials:
1. Torch
Having to access or work in a situation blanketed by darkness is never a good thing. So when the light fades, keep a torch handy, with extra batteries too.
2. First aid kit
Keep this in glovebox or somewhere within easy reach. Make sure it contains bandages, tape, ointments, tweezers and latex gloves to wear if you help at an accident.
3. Jumper leads
You never know when you or someone around you might come back to a flat battery. Can be bought from any auto specialist store such as Repco or Super Cheap Auto.
4. Food items
A non-perishable food supply, such as energy bars, is worth having in case you are stranded for a long time.
5. Toolkit
Always keep this on hand. Having a collection of spanners, wrenches, spare fuses, nuts and bolts, in the car with you is paramount. These can be bought from Repco and Super Cheap Auto stores. You may have enough tools on hand to fix the problem yourself.
6. Water
Just as important for you as for your car when you are both overheated.
7. High visibility vest/hazard triangle
Perfect for you and your vehicle to be seen and they can both be bought at $2 shops.
8. Fire extinguisher
Worth having on board in case of a fire. Small ones can be bought at places such as The Warehouse.
9. Gloves
Keep some heavy duty gloves on hand for picking up glass and so on.
10. Notepad and pen
Can be used for writing a note if you have to leave your car, or take down information after an accident.