Meet the stars of the new film about the famous Formula 1 championship battle in 1976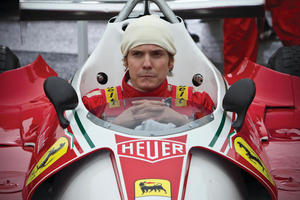 Chris Hemsworth as James Hunt
Q: What kind of importance does playing James Hunt in a film like Rush hold for you?
I was looking for a serious drama like this. I've done so many films in the action and fantasy genre like Thor and Snow White & The Huntsman that I needed to do this kind of a story. You also can't ask for a more charismatic role than playing James Hunt or to work with as outstanding and respected a director than Ron Howard. This was the kind of challenge you want to take on if you want to evolve as an actor.
Q: As a handsome movie star, you must have some kind of idea of the kind of effect James Hunt had on women?
To a much more limited extent! James Hunt was a superstar who was part of the most dangerous sport on Earth in those days. Nothing can compare to the kind of attraction and magnetic sex appeal of someone like that. Just imagine a guy like that with his charisma and his looks against the backdrop of a sport like F1.
He felt like he could have any woman he wanted and he practically did!
Daniel Bruhl is Niki Lauda
Q: What kind of preparations did you have to make for the part?
Well, I had to take a course in Formula Three and learn how to drive the cars. I spent some time in Vienna too, trying to get a handle on the accent. It's very different to German. There's a sort of irony and arrogance to it, and humour.
It was great taking a trip back into the 1970s too. It was a really wild time! People like James Hunt just don't exist any more in racing. In some ways, Lauda was a pioneer of the type of driver you see these days. He was really focused and very skilled.
Q: So you spent some time with Lauda?
Yeah. We met up in Vienna and I quickly realised that he was happy for me to play him. We took a trip on his private jet to Brazil too, to meet up with some other drivers. It was fun.
RACERS REMEMBER
Niki Lauda
Q: What was your relationship with James Hunt like?
We were friends. I knew him before we met at Formula One. We always crossed each other's paths. He was a very competitive guy and he was very quick. In many ways we were the same. When I looked into his eyes, I knew exactly what was going on. I had a lot of respect for him on the circuit. You could drive 2cm from his wheels and he never made a stupid move. He was a very solid good driver.
Q: Were you as serious and pragmatic as Rush describes and was Hunt your wild, womanising polar opposite?
I liked his way of living. We all had lots of girlfriends. I was not as bad as James but we were similar ... I was not as strict in my personal manner as I appear in the movie, although I was more disciplined than he was. I would never drink before a race. Certainly after it, I had to!
Sir Jackie Stewart
Q: What did you make of the classic battle between Hunt and Lauda?
It wasn't a classic battle! Lauda was significantly better. He was a great driver. James Hunt was a good driver but never great. The final race in Tokyo which decided the championship was run in a driving rainstorm and would never have been started today. So Lauda's decision to pull out after two laps was based on the fact that he had been in a terrible accident a few months earlier and he didn't feel the need to risk his life again. Why would he want to expose himself in injury and death when he had come back from near death at Nurburgring?
Q: What did you make of Hunt's decision to continue on?
Hunt had a lot of determination and he did well to win the championship, but it wasn't the way you would want to decide the championship and, if Niki hadn't had his accident, he would almost certainly have won the championship.