British Formula One legend James Hunt re-enters the public eye 20 years after his death in the film Rush, writes Chris Ritchie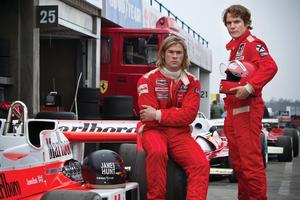 James Hunt was the eponymous "live fast, die young" face of sport in the 1970s. And while he did live through Formula One's most dangerous era, where death was an all too common hazard on the race track, he died aged 45 having lived life always in the fast lane.
Ron Howard's new film Rush follows the intense 1976 championship battle of Hunt and his Austrian rival, Niki Lauda. It was a thrilling title race which Hunt won - but it could have been different if Lauda had not retired from the crucial Tokyo race after just two laps due to perilous race conditions.
Hunt, with typical abandon, opted to take his chances, and a third-place finish edged him the driver's championship by one point.
Taking chances was one of Hunt's hallmarks. He lived life to the limit. In Rush he is played by Aussie actor Chris Hemsworth, with German Daniel Bruhl portraying Lauda.
The movie serves as a reminder of the heady days of 1970s motor racing, where showmanship and off-track lifestyle were just as important as winning races.
In Hunt's case, although he was a wildly talented driver, his lifestyle easily overshadowed sporting achievement.
The racers of yesteryear were more like gladiators in lightweight chariots and, compared to the much safer environs of today's racetracks and cars, their vehicles were like lightly armoured coffins. Hunt himself dragged fellow driver Ronnie Peterson out of a burning car when no one else stepped forward. But others weren't so lucky. Each race carried considerable risk and if, like in Tokyo, it was raining, drivers very often trod a fine line.
This could explain Hunt's almost reckless attitude to life, something that modern drivers just don't have. But there was also a style that is missing in today's F1 landscape.
Hunt would turn up without any shoes on, cigarette in his mouth, frequently criticising fellow drivers or just laughing and messing about. Out on the track he earned the nickname "Hunt the Shunt", a reference to his frequent crashes.
Individual drivers mattered much more back then. Although it was usually a case that whoever had the best car would win, personality and charisma ensured that the fans stayed interested.
Women really did fall at his feet and, so the stories go, it was not uncommon for several to be lining up in the hotel corridor, waiting their turn. One of Hunt's biographers, Tom Rubython, said that the driver and his friend Barry Sheene - who was that year's world motorcycle champion - engaged in a "round-the-clock alcohol, cannabis and cocaine" binge while entertaining a string of air stewardesses.
Of course, Hunt didn't see any of this as interfering with his on-track chances; quite the contrary. On that fateful day in Tokyo, with organisers considering cancelling the race due to the torrential downpour, an estimated worldwide television audience of 30 million saw history unfold.
Visibility was said to be less than 100 metres and this finale was a fitting and compelling conclusion to the Hunt vs Lauda bout. The former, who had lost his place in the folded Hesketh Racing team the year before, slipped into a spot in Marlboro McLaren after turning down Lotus, because he thought its cars were unsafe.
Lauda was the defending champion, driving for Ferrari, and tragedy had nearly struck when he crashed at the notoriously dangerous Nurburgring in Germany halfway through the season.
While the Austrian was in a coma, Hunt notched up several victories and, by the time the Tokyo Grand Prix rolled around, Lauda's lead stood at three points. Both drivers said they thought the race should be postponed and, as Hunt admitted afterwards, "I thought it was pathetic that they made us drive. Having said that, if there had been two cars out there, the second would have been mine."
Influenced by his previous near-death experience, Lauda retired after only two laps, declaring that it "was too dangerous to drive when you can barely see the track in front of you".
Twenty drivers did finish the race though. Hunt suffered a blow-out with only eight laps remaining, taking him from second to sixth, but he came back and crossed the finish line in third, as world champion and an instant superstar.
Hunt's racing career ended when he was 31. He had experienced a couple of disappointing seasons for McLaren and, as he stepped out of his car at the Monaco Grand Prix, he said: "It isn't worth racing when the best your car can do is 10th place."
He did not turn his back on racing altogether though. Joining the BBC's leading commentator Murray Walker, they worked together for 11 years. Hunt was well known for his frank remarks on the drivers and whatever else he cared to criticise.
The last few years of Hunt's life were much quieter. He had, for someone whose candle burned so brightly, settled down. He had calmed down his sexual exploits, and had supposedly been sober for several years. But his friends noticed that he was also a shadow of his former self.
In June 1993, he suffered a fatal heart attack while staying with a friend, Mike Dennet, in St Tropez.
It was a sad end for such a charismatic man who had brought such spectacle to the world of sport, but who had also left an enduring mark on so many people, publicly and privately.
Driven has five double tickets to give away to the movie Rush, when it opens in New Zealand on September 18.
To win tickets email driven@apn.co.nz with your postal address and the answer to the question: Which year did James Hunt win the F1 championship?