From hand-crafted dinghies to cruising yachts, powerboats and trailer-sailers ... they'll be at the Viaduct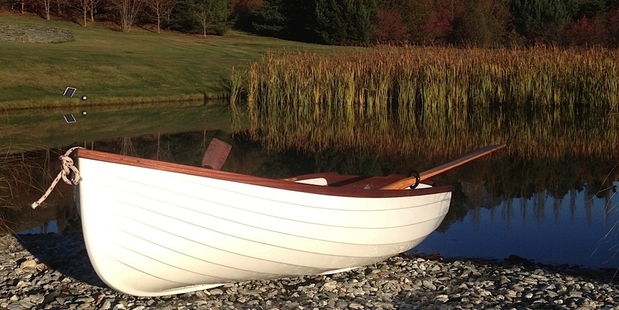 The Elite 15.5m mid-pilothouse sportfisher has twin Caterpillar C7 455hp engines on shaft drives, while the 12.5m Salona 41 is stiff and powerful upwind; light and responsive downwind. Manufacturers and distributors traditionally choose to unveil their new models at boat shows and that will again be the case at this month's Auckland On Water Boat Show.
Show CEO Michelle Khan says three of the most interesting new releases cover the entire boating spectrum, both in size and in style.
They are the Elite 15.5m mid-pilothouse sportfisher, the first 12.5m Salona 41 fast performance cruising yacht and the latest hand-crafted dinghies from Laver Marine.
The 15.5m Elite is a new design from one of New Zealand's most prolific big powerboat designers, Bill Upfold. It is nearing completion at Scott Lane Boat Builders in Papakura and will be launched just before the show's opening on September 26.
Fully customised for sport fishing, the mid-pilothouse sportfisher will have a cockpit helm station, a freezer in the cockpit (designated solely for preserving the catch), rod and tackle stowage in the pilothouse seating, integral tuna tubes and drawers for lure stowage.
"Although the emphasis is on sport fishing, the vessel is also luxuriously appointed with teak and leather finishes," says Upfold.
"It also features modern conveniences such as central heating, satellite TV and communications, state-of-the-art Raymarine electronics and accommodation for seven in three staterooms, including a master cabin complete with en suite."
The Elite is powered by twin Caterpillar C7 455hp engines on shaft drives, and will have a fuel capacity of 3200 litres.
It will have a 5m beam, a a draft of 1.2m and 17,855kg displacement.
The 12.5m Salona 41 is the first of a range of Croatian-built fast performance cruising yachts to arrive in New Zealand.
But distributor Richard Wardenburg, of Hybrid Boats NZ, believes those who follow the European yacht racing circuit will have already noticed Salona's "growing presence on the podiums".
He says the designs have an immensely strong bonded stainless steel frame, which provides the foundation for the yachts' lightweight vacuum infused hull.
"This results in boats that are stiff and powerful upwind, yet light and responsive downwind," he says.
"They are unquestionably fun to sail yet maintain all the safety, quality and comfort that is now demanded of a modern day cruising yacht."
Wardenburg says the range is designed by J&J Yacht Design, the company that designs the Greenline hybrid boats on which he has built his New Zealand business.
"Built to Germanischer Lloyd A Category (Ocean Going) certification, the Salona range includes five competitively-priced performance cruisers between 10m and 13.5m LOA, with a new 18m model nearing completion," he says.
The third of Khan's stand-outs are the Laver Marine hand-crafted dinghies, launched about a year ago.
Although far smaller than her first two choices, they are just as impressive. "The hand-finished aspect and customisable paint colours of each 'Teddy' or Putney dinghy makes every new boat unique," she says.
Based in Omokoroa, north of Tauranga, Laver Marine offers two types of timber dinghies: the 2.2m (7ft 4in) Teddington and the 3.35m (11ft) Putney.
Often referred to simply as "the Teddy", the Teddington is based on a traditional clinker-style GRP dinghy and has a high standard of finish.
"The 'Teddy' is an ideal tender or rowboat that will complement an existing vessel or provide hours of fun as a small runabout," says builder Max Laver.
The larger Putney has been built with fishing in mind.
It is a comfortable, stable boat, capable of carrying a reasonable-sized outboard.
Laver says both boats have sufficient in-built buoyancy to keep them afloat should they be swamped.
He says he enjoys building the boats.
"Being hand-built, each one is a little different and therefore has its own personality.
"To make them unique, they can be built in a range of vibrant colours, with the traditional white-and-teak finished boats being a popularchoice," he says.
"Polished stainless or brass keel bands with matching rope hooks provide a bit of bling to your very own dinghy."
Khan says the Elite, Salona and Lavers will be among more than 80 vessels that will be moored around the easily-accessible marina at the Auckland On Water Boat Show.
"Others making their New Zealand debut include the 14m Jeanneau 450S powerboat and the first 2014 Prestige 450S in the world with a blonde timber interior; the latest - and largest - yacht in the Bavaria Cruiser range, the 17m flagship Cruiser 56 and the first Lipari 41 cruising catamaran in New Zealand."
Khan says several trailer boats on display, including those from companies such as Rayglass, Tristram and Stabicraft.
"Invercargill's Image Boats will also debut a brand new 10m alloy-hulled all-purpose fisher-cruiser," she says.
"This is a new, larger model that will sleep up to six and weigh 4.5 tonnes on the trailer.
"According to Image Boats' director Dean Wilkes, this new design comes from people wanting bigger and bigger boats that they can still trailer."
Khan says more than 200 boats will be on display on land and on the water at the show.
The Auckland On Water Boat Show is at the Viaduct Events Centre and the Viaduct Harbour in downtown Auckland and runs from Thursday, September 26 to Sunday, September 29.
The show is open from 10am until 6pm Thursday, Friday and Saturday and from 10am until 5pm on Sunday.
Tickets are available at www.iTicket.co.nz for $18 for a single day pass; $27 for a four-day pass; or at the gate for $20 and $30.


On Water show
Where: Viaduct Harbour, downtown Auckland
When: September 26-29
Shop hours: 10am-6pm except Sunday (10am-5pm)
Admission: Online: $18 for 1 day; $27 for 4 days
At gate: $20 for 1 day; $30 for 4 days
More info: www.auckland-boatshow.com