Smart Mazda communicates with the hazards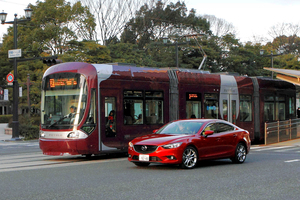 Wouldn't life be easier if your car could talk to the potential hazards around it - and help you avoid hitting them?
Mazda has fitted a host of advanced safety systems to its ever-popular Mazda6 sedan, and the Mazda6 ASV-5 research vehicle starts its trials on public roads in Japan this month.
Its use of "intelligent transport systems" includes futuristic technology which enables the car to communicate with public transport on the busy streets of Hiroshima.
Trams move 150,000 people around the city every day.
They are fitted with onboard sensors, and the ASV-5's electronic systems register these and work to avoid collisions and promote smoother and safer driving.
Mazda sees the technology as a vital urban safety tool - its R&D department has noted a renewed interest in public transport, with trams considered an eco-friendly option for commuters.
The company intends to showcase the technology at the 20th ITS World Congress in Tokyo next month, and hopes to gain certification for its system if the clever Mazda6 testbed's trial is a success.
Mazda's i-ACTIVENESS technology is aimed at recognising and assessing hazards that the driver may be unaware of and - through warnings and active systems - either avoiding accidents or minimising the damage if they do occur.
It includes features such as lane-keep assist, adaptive lighting which follows the curvature of the road, smart braking to avoid frontal collisions and rear vehicle monitoring to reduce danger from approaching vehicles.
Developed as a joint venture between Mazda, governments and universities, the ITS component is tipped as a likely add-on soon, although it is unlikely to be used outside of Japan for some time.