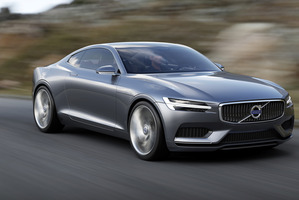 People who remember Roger Moore in The Saint will spot a few clues The Saint lives. Ahead of its official launch at Frankfurt, Volvo has provided images of the Concept Coupe, the first of three cars to showcase the Swedish automotive brand's change of direction in automotive design.
It is easy to spot in the P1800 prototype elements of homage to the white P1800 coupe driven by Roger Moore in the classic spy television series The Saint.
The wide-shaped front grille and kinks at the rear are such giveaways, as is the flowing coupe roofline.
However, style features such as T-shaped daytime running lights, Volvo's floating front grille design and C-shaped tail lights dismiss any claims that the Concept Coupe is too retro.
"We are using these subtle links to a glorious past to create a future where sheer beauty becomes a recognised part of Volvo's identity," says Volvo design boss Thomas Ingenlath.
"That journey starts with Concept Coupe."
Pictures of the interior show a hand-crafted crystal gear selector and a sizeable infotainment touch screen system laid out in portrait rather than landscape style.
Volvo is showing a minimalistc take on interior function by offering minimal use of buttons, resulting in a smooth and uncluttered design.
Powering the Concept Coupe is a 2-litre four-cylinder Drive-E petrol engine with supercharging and turbocharging, and an electric motor on the rear axle.
The resulting power is said to be 300kW and 600Nm of torque - quite handy for a plug-in hybrid and a feature which should ensure the Concept Coupe's status among the big boys of the sporting coupe world.
Volvo intend to use this design as a template for future models, the first being the new XC90 crossover, which is expected next year. Whether you factor in nostalgic style or the way of the future, the Concept Coupe has to be without doubt one of the most desirable-looking cars to come from Sweden in quite some time.
Ingenlath says: "The Volvo Concept Coupe is no futuristic dream car.
"It is designed to demonstrate the capability of our new architecture - the confident stance, the proportions and the most prominent design signatures."