Team behind gaming console go from fantasy to reality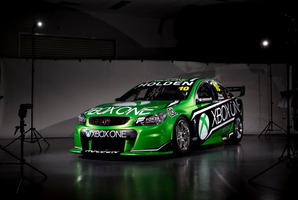 Microsoft' s new gaming console, the Xbox One, will launch in November but a month before that the global giant will race for line honours with the rest of the field in the Great Race, the Bathurst 1000.
The Xbox One Racing Team has joined with V8 heavyweights Triple Eight Race Engineering, under the guidance of six-time Bathurst winner Mark Skaife, to make their debut assault on Mount Panorama.
The car is the latest Holden VF Commodore and comes with a 5-litre naturally aspirated V8 packing 640bhp and top speed of 300km/h.
Behind the wheel will be "Britain's Schumacher" Andy Priaulx and two-time DTM champion, Swede Mattias Ekstrom.
"Andy and Mattias are two of the best Touring Car drivers in the world today and I can promise Bathurst and V8 fans that this will be one team to watch come race day," Triple Eight owner Roland Dane says.
And for those who've sat at home on the couch to watch the action and lusted to one day do it themselves, the new Xbox One will provide exactly that kind of portal with the new game "Forza Motorsport 5" which features the Bathurst track.
"This is a milestone not only in racing, but gaming history and I'm proud to continue working with Xbox as we turn Kiwi gamers' dreams into a reality," says team mentor Skaife.
Skaife said the Bathurst 1000 was watched in 137 countries and the inclusion of the track in Forza Motorsport 5 would cement its place as a global racing circuit.
Dan Greenawalt, creative director at Turn 10 Studios, the outfit behind the new game, said the use of cutting-edge technology like laser-scanning and a new graphics engine meant they have been able to precisely reproduce the characteristics of every corner, straight and detail.
"This is the Bathurst that racing fans have been asking for for years and we're proud to bring it to them in Forza Motorsport 5," he says.
Now all the new team needs to do is not crash out on the first corner come race day.