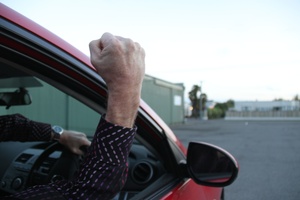 I've been spat at, shouted at and sworn at since writing about my obviously contentious view that cyclists should follow the same set of road rules that we on four wheels do. While this should be considered a given, apparently the lycra hordes have something quite different in mind. Anybody who lives in a big city and uses the roading network has the nasty affliction they call road rage. It should just be called urban life syndrome.
There are all kinds of things in these environments that are there, seemingly, to annoy us to the point of losing our rags and screaming obscenities at our steering wheels. Most people don't go to the over-the-top measure of actually screaming at people, or worse, as demonstrated by the nutters who end up facing our justice system.
That particular brand of bad behaviour is best confined to the animal kingdom.
I watched a guy get out of his car and scream at an elderly lady in a car that was obviously a bit big for her as she tried to negotiate her way out of a carpark into traffic.
The poor dear looked like she was going to have a stroke as this bloke, in his 20s and dressed with all the sartorial elegance of a pig farmer on muck-out day, went red in the face and called her names that his mother would have washed his mouth out for.
His busy schedule was obviously being interrupted and his plans to kick kittens, steal candy from kindy kids and other acts of, excuse the phrase, complete dickness, were going to have to be put off for at least 30 seconds.
The ranting went on for a couple of minutes until a few people - with their own teeth, hips and free from the glorious blue rinse - got out of their cars and started towards him, he jumped back in his crappy old Starlet and took off in a cloud of stupidity. It didn't have the power to generate anything else, but he must have felt very powerful and impressive.
This kind of thing goes on all over the country and world every day, and people who are obviously struggling to cope with their sheer awesomeness bully and berate others who clearly don't deserve it. The woman, who turned out to be picking up the automotive behemoth on behalf of her son who had been called overseas urgently, was quite lovely and seemed to think it was all her fault. I just love living in the city sometimes.