Rally Champs feature Possum tribute, writes Eric Thompson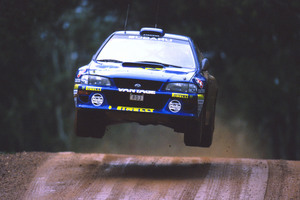 For the first time in its decade-long history, the Possum Bourne Memorial Rally will be part of the New Zealand Rally Championship.
The event this weekend is also in celebration of 50 years in motorsport for Pukekohe and the Franklin district and will incorporate a few tarmac-only stages.
Bourne won seven Australian Rally Championships, three Asia-Pacific Rally Championships and a New Zealand Rally Championship before his fatal crash in 2003.
Keeping the family name associated with rallying in New Zealand is Taylor Bourne, Possum's oldest son, who is racing this weekend as his tribute to his dad - as his mum, Peggy, did when she drove at the Race to the Sky event in 2005.
Taylor has been to the Dale Perry Rally Drive School in Maramarua Forest and with his brother, Spencer, started competing in club autocrosses and motokhanas this year. He enjoyed it so much the family bought a Subaru Impreza, which is being prepared by Possum Bourne Motorsport.
Taylor will have stepfather Mark Mitchell - MP for Rodney - as his co-driver for the rally. Mitchell has just obtained his MotorSport New Zealand competition licence and co-driving qualifications for this event.
They will start as the final car in the rally with the number 62, the competition number Possum had for the Production World Rally Championship in 2003.
"It's an honour to be involved in the special celebrations this year, we're so grateful for the effort that Pukekohe Car Club and the New Zealand Rally Championship put into keeping Possum's memory alive," said Peggy Bourne.
Several of Bourne's old sponsors have come onboard to help make this possible - Subaru New Zealand, Chicane Racewear, Caltex, CRC, Standox plus others.
The rally is a one-day event with its dual-surface stages encompassing the Maramarua Forests - where Bourne cut his teeth - as well as Hampton Downs Motorsport Park and Pukekohe Park Raceway.
"This year is special to everyone who had a connection to Possum, not just in a sporting capacity but it's also special for his home town of Pukekohe," said New Zealand Rally Championship director Peter Johnston.
"We're really keen to make this event something that the whole community can be involved with, celebrating the memory of just how much a special guy Possum is to this country.
"People who make the effort to take a look at any of the stages this year will be treated to some purely magnificent driving, from a diverse pool of talent which we have here.
"Anyone who comes out will surely appreciate the adventure they'll be exposed to, and the amazing field of teams and vehicles which span the course of rallying history in style."
Pukekohe Car Club president Chris Klitzen said: "We're very excited for what this event will offer not only competitors but to spectators also.
"The majority of stages will be easily accessible to public and being a stone's throw away from Auckland and Hamilton it's the perfect opportunity for people to come and see how Possum used to do it."
In a ceremonial start, the rally will leave from King St, Pukekohe, in front of Bourne's recently unveiled memorial statue at 7am on Saturday. Rally teams will leave the township in one-minute intervals.
Spectators can then follow the event over the course of the day with the first viewing point in the Maramarua Forest where stage one starts at 7.45am.
Tarmac stages are at Hampton Downs from 2pm and then at Pukekohe for the final stage of the rally at 5pm and both are free entry.
Cody Crocker (Possum's former co-driver) will drive Bourne's WRC hill climb car as a zero car (used to sweep the course as a first run before competitors enter the field) on all stages.
To close the event, a function will be held at Pukekohe and will include Bourne memorabilia, supper, the screening of a specially produced documentary on Possum, speeches from previous crew members and family. This event will be open to the public, and tickets can be purchased from Pukekohe Car Club for $35 per head.