Veteran claims championship after chaotic weekend racing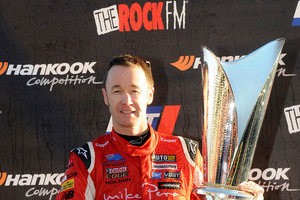 Despite a less than successful weekend, Greg Murphy has clinched the V8 SuperTourer Sprint Championship.
After a weekend of chaos and carnage, he won his first title since 1996 at the fourth round of the series in Taupo.
The Aussie-based Kiwi, out of a full-time V8 Supercars drive this year, claimed the sprint-series title from Ant Pedersen and Shane van Gisbergen despite copping a drive-through penalty in the final race.
The overall round winner was Van Gisbergen, after a fantastic drive in the final race, coming from last to take second behind Andy Booth and in the process winning the Ashley Stichbury Memorial Trophy, presented by Ashley's son, Zac.
"I was a fan of Ashley's so this is cool," said Van Gisbergen.
Murphy eclipsed some much younger rivals, including full-time V8 Supercar drivers Van Gisbergen and Scott McLaughlin, over the four-round sprint series but said he did not feel he had proved a point.
"We have respect for one another and we laugh it up about the age thing," said Murphy.
"The great thing about this series is that everybody's in with a chance because the equipment is equal, it's a control series. But you've still got to be in the right car with the right team to do the job.
"I'm a bit disappointed in myself as I didn't do as good a job as I was hoping to. I was a little bit annoyed with myself for the drive-through after turning John McIntyre around."
Murphy's last title was 17 years ago when, driving for the Holden Racing Team, he won the Mobil Sprint Series, which took in races at Pukekohe and the Wellington street circuit. He finished second twice in the V8 Supercars championship and won four Bathurst titles.
This year he does not have a full-time Supercar drive but joins the Holden Racing Team as a co-driver for Bathurst and two other events.
Murphy started the weekend with a comfortable lead over Pedersen and retained it with finishes of seventh, fourth and 10th.
The final race started in chaos with several cars caught up in chain-reaction collisions off the start line, which started when pole-sitter Van Gisbergen was slow away and defending champion McLaughlin was among those eliminated.
Van Gisbergen restarted at the tail of the field and charged right through to second.
Nelson driver John McIntyre led early but was forced out when Murphy spun his Ford round and Andre Heimgartner hit him, causing extensive damage. That earned Murphy his penalty and later he publicly apologised to McIntyre.
Van Gisbergen won race one just ahead of McLaughlin and Heimgartner. Pedersen won race two from McIntyre and Andy Booth. After the dust had settled in race three Booth had crossed the line in front of Van Gisbergen and Simon Evans.
McLaughlin was the big loser of the day. After qualifying fastest for the first two races, he lost race one when his car started misfiring near the end and in race two he took a big hit at the first corner and then was T-boned by Heimgartner in race three.
"I can't believe I've been punted around by Heimgartner again," he said. "It's not only him, but there are a few drivers over here that need to realise you can't win a race in the first corner and they need to chill out.
"I'm not saying they're bad drivers, but at times there's some dumb decision-making going on. I'm sick of getting thumped on rolling starts. I don't get money or anything to come over here and race.
"I do it because I love it and my family want me to race here. Some of the drivers have to stop trying to prove a point with us guys who are driving in the V8 Supercars."
Rightly or wrongly, Heimgartner is beginning to develop a reputation as a loose cannon.
"It was definitely an up-and-down weekend, that's for sure," the youngster said. "The problem with Scott was not my fault and it's all been sorted out.
"All the stuff that was said about me causing it [hitting McLaughlin] is rubbish. I got hit in back by Booth, which caused me to hit Scott. We both carried on and it looked like he hit Shane and then I had nowhere to go, and hit him.
"It was a shame as the day had started out good when we got the lap record in race one."
The overall BNT V8 SuperTourers championship continues with three endurance races starting at Hampton Downs, September 28-29.

Standings
1 Greg Murphy 2269
2 Ant Pedersen 2095
3 Shane van Gisbergen 2015
4 Daniel Gaunt 1642
5 Andre Heimgartner 1470
6 Richard Moore 1361