Jacqui Madelin meets a couple who poured 950 hours into a cute classic Morris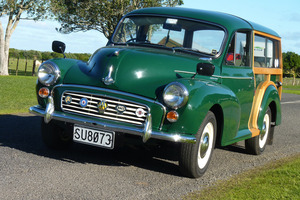 Talk about having a relationship with your car - you can't get much closer than Mike and Flossie Harmon are to their 1968 Morris Minor Traveller, though they weren't its first owners.
A British teacher bought it from Morris Garages, Newbury, England, for £526 according to the purchase order, dated February 13, 1968, plus £8 for delivery, £3 for the number plates, and a bit more for the road licence, optional seatbelts and anti-freeze.
The teacher taught at a rural school for girls in Masterton and arrived in 1970 with her Morrie, which stayed behind when she returned home.
Mike tracked her down through a Masterton man who did some work on the car.
The Harmons bought it in 1990 and took the next five years to restore it. It took 950 hours, and "we did everything but the paint", including the engine and gearbox, the wheels and suspension, the upholstery and roof lining, the carpet (Flossie made her own patterns) and the wood - the original was so rotten Mike made the pattern for "a man in Marton" to replicate, then blasted the original stuff off with a garden hose.
By now the photo albums were out - along with tea and a nice bit of fruit loaf - and it was clear this was a family project.
The chassis was eaten away so a fair bit of metal work was done, while the panels were stripped and dipped - there's even a photo of some panels hanging from Flossie's clothes line.
Mike brandishes a list of all the costs, and I mean all, with a total of $12,142 including every pin and bolt. "The ha'pennies and pennies mount up and you do a lot of unproductive running around."
The wood's now tawa, the closest in colour to English ash and it weathers well, Mike says. It's a lovely wheat colour that glows against the green paint but it was tricky to get right: "If you make a mistake you're in big trouble, you can't weld it," and, "The first thing I should have done was put the roof in, in case of mis-measurements," but there weren't any, fortunately. Clearly it helps that Mike's had a bit of practice, having restored a few cars in his time, "A '55 Volkswagen, a '52 Morris Minor, a '56 Morris Minor, a '57 Morris Minor, a '62 Morris Minor..." The Woodie is the last Morris, and the last parked here too, alongside their Toyota Echo.
The couple have done two trips round the South Island in their car, "with no trouble, not a sausage", though they had a hiccup on a trip to Gisborne, "It popped out of second," and was freighted home.
They still use it quite a bit. "Every weekend in fine weather but not rain, I don't like cleaning it," Mike says.
Otherwise the car's easy to work on. "Anyone can fix them, not like modern cars," says Mike encouragingly as he hands over the keys.
I hope he doesn't think I'll break it, it's a work of art with those pale green seats, the original vinyl and the dark green carpet toning with the paint. There's a huge hoop of a metal wheel, a four-speed manual and minimal switches - choke, lights, wipers and windscreen pump, plus a heater. Several ashtrays too. "They weren't renowned for their good brakes, you really have to stomp on them," but otherwise the Morrie's really easy to drive. At 800kg it's even easy to steer and we're soon cruising at 40mph (64km/h) - it'll sit on 100km/h, Mike says, and there's no problem keeping up in the city. "Most traffic isn't going anywhere anyway," though open road driving does require some patience - the spec boasts of a zero to 80km/h time of 15.5 seconds and a 118km/h top speed.
But top speed's not what the car's about; this is an everyday classic guaranteed to bring a smile and start a few conversations. Mike was tailgated by a tour bus once, and when he stopped, "These ladies got out, dripping in jewellery and one said, 'When I got my first divorce my husband got the Morris - and I got the Rolls."'
I suspect Mike, like me, thinks hubby got the best of that bargain ...