The new Cerato has been eagerly awaited, writes Matt Greenop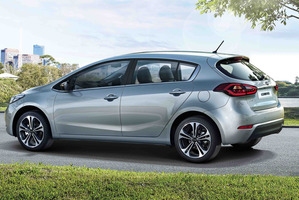 It's always a bit awkward when one family member doesn't quite match the rest. Prince Harry is a prime example.
Kia New Zealand has been waiting with bated breath for the arrival of its Cerato hatch, after launching the revised version of its sedan earlier this year.
Getting stock is often an issue for Kiwi car companies, and with a fast-growing company like the ever-improving Kia it is especially true.
Its on-road credentials improved greatly with the release of the four-door version, which featured a new look courtesy of renowned former VW Group design boss Peter Schreyer, on top of vastly improved spec and build quality.
There's another member of the clan waiting in the wings - its svelte Koup, which was revealed at the New York motor show earlier this year under its United States market alias of Forte.
Kia has gone to great efforts to improve this model. The hatch is no exception, and carries a higher spec than ever, including satellite navigation.
Spurred by the success of the sedan, Kia New Zealand boss Todd McDonald has pushed hard to get the best possible spec on showroom floors as quickly as possible.
"The arrival of the Cerato five-door model couldn't have come soon enough," McDonald says.
"We have experienced unprecedented demand for the sedan model since it was introduced in May and there has been high expectation for the five-door Cerato, which is the volume seller for us in the C segment of the market."
The Cerato, which is built at the company's Hwasung factory in Korea, went through a huge 42-month design and development process and was then put through its paces at this end of the world in order to tailor the car's suspension and handling for New Zealand and Australian roads.
It's a bigger machine than the outgoing model, with a 50mm longer wheelbase that is now the same as the chunky Sorento SUV.
It has grown 40mm in length to 4560mm and added 5mm in width, with shorter overhangs at both ends adding to its far more sporty stance.
There are four models on offer, all packing six-speed automatic transmissions.
The entry LX, which enters the market at $29,000, the mid-range EX ($33,490), and one of the two SX variants are both powered by the same 110kW 1800cc MPI petrol engine.
The range-topping two-litre SX model gets 129kW from its GDi engine.