Off-road racer gives something back to the sport he loves, writes Andy McGechan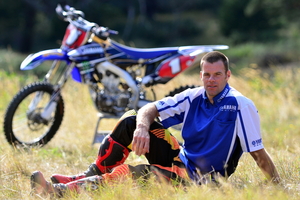 Kiwi international Paul Whibley will soon be back in New Zealand after another successful overseas campaign and will immediately set to work organising a race day in his home region.
The second annual Yamaha Taikorea 500, on his own Himatangi property on November 23, is another example of Whibley putting something back into his beloved sport of off-road motorcycle racing.
The Pahiatua man began his dirt-bike racing career in the Manawatu, Wairarapa and Central Hawke's Bay regions, honing his skills at club motocross, enduro and cross-country races before tackling national championship events in readiness for a crack at world championship competition in Europe.
He achieved success at World Enduro Championship events before turning his attentions to cross-country racing in the United States, winning Grand National Cross-country crowns in 2009 and 2012.
Whibley is running sixth overall in the GNCC series after nine of 13 rounds but, with an injury handicap and time running out, it seems unlikely he will be successful in defending his crown this season.
But that doesn't stop him giving up time and effort for his fans back home. Whibley's Yamaha Taikorea 500 is a series of four quickfire races - with cash prizes in a unique format that pays out most for consistency but also rewards individual race winners.
American championship frontrunner Whibley and his wife, Katherine, bought the sand-based Taikorea Motorcycle Park near Himatangi, last year and, with a manager in place while Whibley was racing in the United States, it continued to operate as a training centre for the Manawatu dirt-bike community.
On November 23 it becomes a proper cross-country race venue. The Yamaha Taikorea 500 is expected to attract the cream of New Zealand's off-road racers, including three-time former national cross-country champion Adam Reeves, of Palmerston North, and Mokau's current national cross-country champion, Adrian Smith.
Last season's open class enduro champion, Chris Power, of Auckland, Marton's former national cross-country champion, Cam Smith, and Masterton motocross and cross-country ace Reuben Vermeers are also expected to front up at Taikorea.
Whibley said he would not be racing the Taikorea event himself. "I will be too busy running the show, so I have no time to race on the day. I would love to, as it will be fun, but I'm really just trying to build something for the future and to give something back to the sport and to the riders.
"The shorter race duration will cater for all skill levels but will still challenge the professional riders."
The Yamaha Taikorea 500 will comprise two one-hour cross-country races on the "long track", followed by two 10-minute cross-country super finals on the "short track", each race offering dollars to the winner. An extra cash prize will be paid to any rider who manages to win all four races.
"Last year's super finals provided some great spectator viewing and the racing action was intense right to the finish line," said Whibley.
This year's event will also be run in conjunction with the Bush Riders XC series, so riders will earn points towards that championship as well.