David Linklater traces the history of those iconic Matchbox miniatures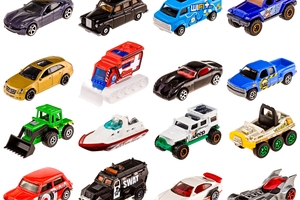 If you are an adult male - I cannot speak for the women, although obviously I hope they join with us - I'd be very surprised if you didn't spend a large proportion of your childhood lying on the floor, trying to get proper perspective on a Matchbox car. So tiny, so full of potential.
Matchbox celebrates its 60th anniversary this year. So does Queen Elizabeth. That's not a coincidence, as a coronation coach was one of the first models produced by British die-casting company Lesney, founded by Leslie Smith and Rodney Smith (no relation), with Jack Odell.
The original coach model was quite large, but Lesney clicked to the idea of miniaturisation when Odell's daughter asked her father to make a toy for school, with the prerequisite that it had to fit inside a matchbox (as per school rules).
Odell shrank a design he had for a die-cast model of a steam roller.
Lesney did the same to the coronation coach and sold more than a million of them.
Suddenly, the partners had the funds to develop a line of tiny, terrifically durable model cars.
The Matchbox brand was launched in 1953, with a range of models built not to a particular scale but rather "1:box" - a cement mixer being smaller to fit inside the brand's standard-size matchbox, for example, while a family car could be slightly larger.
The Matchbox brand encompassed several different lines, including the popular Models of Yesteryear and the mainstream 1-75 series - so-called because the company decided there would be only 75 different models in each range. Impressive detail was achieved by photographing the subject matter and even borrowing blueprints from carmakers.
The 1950s and 60s were Matchbox's time. In 1968 it was the top-selling toy brand of its type in the world, but in 1969 rival American company Mattel introduced Hot Wheels.
It was less detailed and definitely less grounded in realism than Matchbox, but Hot Wheels cars wowed children with their lurid colour schemes, low-friction running gear and a massive range of accessories, including plastic tracks designed to take full advantage of that turn of speed.
Matchbox responded with the Superfast range, which initially involved a simple retool of the existing line-up to include low-friction wheels and brighter colours.
But by 1971, brand new models with wider tyres were also being launched.
Lesney went bankrupt in 1982 and was taken over by a company called Universal Toys. Some of the original mouldings went to Jack Odell, who launched a line of Yesteryear-type models under the Lledo brand.
Universal also acquired Dinky (which had also gone bankrupt) and launched the Matchbox Collectibles line, aimed at adult collectors.
Production moved away from Britain, ultimately to China.
More changes of ownership: in 1992 Matchbox was sold to Tyco, which in turn sold it to Mattel in 1997, bringing the two rival brands together. Mattel has continued to keep the Matchbox and Hot Wheels brands separate, although it has been sacrilegious at times: for example, during its ownership of Matchbox it has increased the model range beyond the magic number of 75, to 100 and even 120.
So the Matchbox brand is celebrating 60 years. On the basis that males never truly grow up, there are retirees who have enjoyed them all their lives and continue to do so. That's a nice thought.