Same, but different ... Cologne sets a test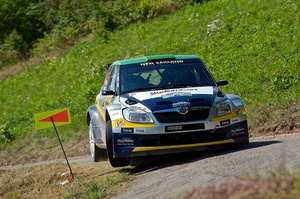 After their third place finish in Rally Finland this month, former Production World Rally champion Hayden Paddon and co-driver John Kennard are fired up for another couple of days racing in the ADAC Rallye Deutschland.
They have been busy tarmac testing in readiness for the weekend's blast over the roads in and around Cologne. This is the first all-tarmac rally this year, and Paddon reckons the team has a good set-up base and experience of the German rally.
Paddon and Kennard contested the German event in 2010, but things have changed since.
"This was my first tarmac event ever in 2010 and we finished second in the Production World Rally Championship class," said Paddon.
"Nearly all the roads are different to the ones we raced on last time, and the ones that we have been on before are run in a reverse direction."
It's a technical rally with a mix of surfaces including cobblestone, smooth country roads and winding tarmac ribbons through vineyards.
"Everyone we are competing against has done a lot of miles this year, whereas we haven't," said Paddon.
"Obviously we want to be fighting for top spot but, as it was in Finland, that will be hard against the faster R5 and RRC cars.
"But we feel comfortable with our package that we can fight with them all."