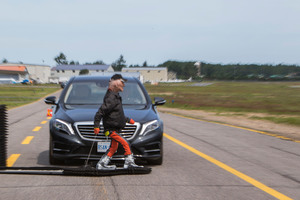 In this age of electronic gizmos and wotsits, deciding what is important and what's not can be a technobabble nightmare. As if the car buying process wasn't difficult enough already.
There's no firm and fixed rule that can be applied to every brand, and putting that into perspective is incredibly important.
A fairly obvious rough guide is that the newer the car, the better the features are going to be.
Whether it's as simple as having an easy connection to your Bluetooth-toting smartphone, or advanced safety features like crash mitigation systems or pedestrian avoidance, they're all going to come in useful at some stage.
Stability control is one of the most important features you can hope to get in a new car. In fact, in many markets it's now compulsory to have ESP on all new vehicles.
This is great news for car buyers and, in all probability, a bit depressing for panel beaters. Anything that can take loss of control out of a drivers' hands and hopefully avoid an accident is brilliant, no matter what your skill level is, or how experienced you are.
Young drivers these days are rather fortunate to have grown up with tech that has improved the overall safety of their vehicles - as anyone who has ever tried to stop an old Ford Escort on a wet and slippery road will certainly back up. ABS, you are a godsend.
To improve your car shopping experience, the availability of crash test ratings is another. These tests take into account everything from seatbelt and safety features through to how its going to come out of an accident. Researching these is undoubtedly going to help you make the right buying decision.
And in New Zealand, where our fleet average age is approaching 14 years and we've got a mixture of imports sourced from around the world and new, local models, it pays to have the exact model right. Most dealers will be happy to provide buyers with this information.
The other big thing to consider is which car you feel safest in - personal preference counts for an awful lot.
Follow us on Facebook: www.facebook.com/DrivenNZ