Competition puts emphasis on fun in cars under $2000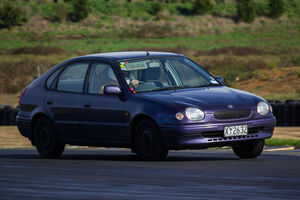 The New Zealand Racing Drivers' League, and the Historic Racing Club in particular, have come up with a great idea to get people to dip a toe into the waters of racecar driving without breaking the bank, having to work three jobs or sell their children.
The 2K Cup is designed to provide the lowest price race entry category in New Zealand and will have a firm emphasis on fun. Cars must cost $2000 or less and are only allowed safety modifications, if desired.
This is the best motorsport news for the growth of the sport in years so Driven is entering the championship in a purple 1999 five-door Toyota Corolla from the used-car yard of Albany Toyota - who just happen to also be the team owners.
The idea was not to crawl through every second-hand listing to find some MR2, tweaked Toyota Levin or other two-door sports car, but to do it with something mum's abandoned after 10 years of use and with 245,000km on the clock.
A weekly report will appear in the motoring section of nzherald.co.nz that will expand on more details of the category and how you too can go about getting involved in motorsport.
I'll be documenting how to prepare the car and how - as a former international motorcycle racer - I'm going to learn to race on four wheels before the first round, September 28-29.
The driver training began last Saturday at the Hampton Downs circuit for a Paul Radisich's Ultimate Drive Day put on by the HRC.
Radisich, the two-time World Touring Car champion and V8 Supercar driver among many other things, was on hand to oversee the day with three other high-quality instructors. Their combined task was to try to get the 20-plus enthusiastic novices and part-time racers to learn the art of getting a car around a purpose-built racetrack quickly.
During the full day of track time, we had one-on-one training with an instructor in the car, and some classroom time when the finer points of cornering were explained. Some even opted for the instructor to drive their car to show just how quickly it was possible to get it round the north Waikato track.
It soon became evident that stock brakes and pads were good for about five laps, but I discovered I could chop off around two seconds a lap because the car went around corners faster than I thought possible.
However, next time I'm taking a couple of seasick tablets before I go out, and trying to stay in the standard seat was a good workout for my abs.
I thought I was beginning to get it until Radisich buckled up next to me. We've all had our share of back-seat drivers and their advice (and Radisich's was outstanding), but I was mortified when he grabbed the wheel as I was peeling into turn two, stopping me from turning until I almost closed my eyes hoping the airbags would work as we ploughed into Armco railing.
All of a sudden he reefed the wheel hard right and the car pitched, wallowed and rolled its way through the corner, hitting the apex properly for the first time all day.
Just as I began to settle down Radisich started to pull the wheel toward him and we started heading rapidly to the outside of the track, "unwinding the car" apparently.
"There are two big things people forget to do when they first get on a race track," said Radisich. "Use all the tarmac, because they are used to driving on the road and only being able to use half, and getting all the braking and gear changing done before beginning to turn into the corner."
Oh sure - there was a tonne more stuff to learn but these are the fundamental tenets of driving a racecar, along with getting your seat position right so you're not hanging on to the steering wheel for dear life.
"Get those three right and then you can concentrate on the finer points of hitting all the apexes, how to carry more speed mid-corner, exiting under power and a host of other things," he said.
You cannot overestimate how valuable a day's coaching and practice under professional eyes can help the novice. For those wanting to explore the 2K Cup and go racing, get down to Hampton Downs, or wherever, and get some lessons from the professionals.
You'll soon realise just how much of a crap driver you really are, no matter how good you might be on the PlayStation.
Check the website, www.nzherald.co.nz/motoring for regular updates and more explanations about the category, driver tips and racecar preparation.