Jacqui Madelin risks whiplash aboard offroad monsters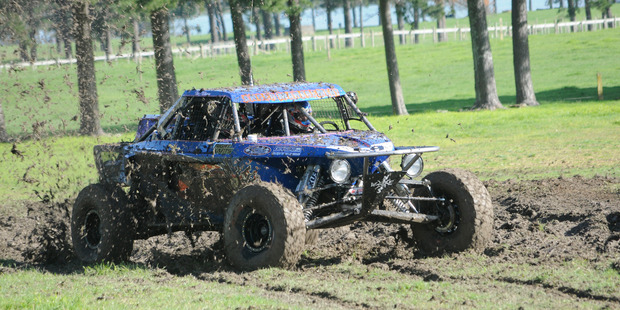 Talk about hell on earth, I'm being shaken round like a crash-test dummy in a mud-filled blender, unable to see, move - or hear, for the mighty Chev V8 engine behind my head is roaring like a T-Rex in heat.
I'm sat beside Trevor Cooper in his US-built Jimco rear-drive desert racer fettled for the upcoming Taupo 1000 as he gives it a bit of a shakedown run, and wondering how the hell he can see, let alone use controls long-since clagged with mud.
These are racing's truly hard core, the purpose-built unlimited-class monsters - little more than roll cages and high-powered engines hurling over 480kW and 950Nm to those massive wheels and designed to blast across 1000 off-road kilometres in just two days.
They cost upwards of $150,000 to build and most come with a laconic spanner-wielding companion to help keep them moving, for things will go wrong when you're churning scenery at this level of aggression.
Yet despite the flying mud and lurid sideways slides, they're not as uncomfortable as you'd think.
As we crested that first jump and got airborne, I braced for an impact that was barely felt, the truck almost sitting on its belly before those purpose-built springs rebounded as the wheels scrabbled for traction and hurled us forward, a mighty achievement given how far we had flown.
It's the UTVs that are the whiplash kings. A quick clean of the goggles and I strapped in beside Ben Thomasen, who shares the five-round New Zealand Offroad Racing Championship lead with no fewer than nine others, driving the only UTV in the elite list.
These things look much like ATVs with roll cages, and they're a new class to off-road racing, a trial class last year and with their own championship confirmed for the 2013 ENZED Taupo 1000.
Thomasen's Polaris is all-wheel drive, compact and, at 530kg, much lighter than the hulking unlimited cars. They're more nimble too.
It feels much quicker because it's smaller, the 66kW 875cc twin-cylinder engine making short work of the muddy conditions, and taking a tight line inside an unlimited class car that's sliding spectacularly to our right.
But you feel the limitations when it hits that same crest.
With 356mm of suspension travel and 330mm of ground clearance it hits the ground like a rock, snapping my chin on to the muddy neck brace that now feels much too insubstantial, Ben charging toward the next bend while I'm still counting fingers and wondering which month we're in.
There's no time to wipe my goggles again before I strap into Raana Horan's Nissan Titan V8, then Gregg Carrington-Hogg's Shores Blue all-wheel drive Thunder Chev LS2 V8, which has long since turned from blue to paddock brown and is chewing up great clods of scenery.
Come September 13-15 they'll be chewing up Taupo, defending Kiwi honour against the best of the Australians over 50km laps to see who'll be the first to hit the magic 1000.