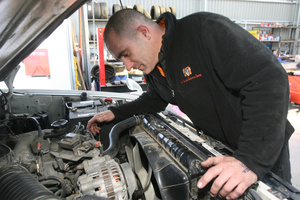 Sticking to your car's service schedule is a good idea, say 87 per cent of motorists.
Trouble is, despite giving mental assent to the idea, about 46 per cent of motorists have reduced the regularity of servicing to save money.
This was among the findings of a survey of car servicing chains by research company Canstar Blue as revealed to Driven.
As well as revealing our guilty servicing secrets, the survey declared Oil Changers NZ the overwhelming favourite among servicing chains. Oil Changers received 100 per cent in each of the eight categories surveyed, including value for money, time taken, effectiveness of repairs and so forth.
"While deferring maintenance might be a short-term solution, it could pave the way for even bigger repair bills down the track," said Canstar Blue NZ general manager Derek Bonnar.
The study revealed men were slightly better than women for servicing diligence, older motorists were better than younger ones and - surprisingly perhaps - Aucklanders outperformed people in the regions.
Those prepared to skip scheduled services if their vehicle was running well numbered 49 per cent in Generation X (born early 1960s to early 80s); followed by 39 per cent for Generation Y (born early 1980s to the early 2000s).
In this category, the Baby Boomers (born 1946 to 64) were only 31 per cent.
A telling question was: have you ignored an engine oil warning light?
Far more of the younger motorists (Gen Y - 20 per cent) had, while the oldies had learnt their bitter lesson (Baby Boomers - 5 per cent) had learned this bitter lesson.

Key findings:

*45 per cent only get work done to fix a specific issue or if it fails a warrant
*46 per cent have reduced the regularity of car servicing in order to save money
*5 per cent have never had their car serviced
*41 per cent have done some basic servicing themselves to save money
*45 per cent would like to do basic servicing but don't know how
*11 per cent have ignored engine warning lights
*40 per cent skip scheduled services if the car is running well
*87 per cent think it is important to maintain the service schedule of the car
*86 per cent have bought a second-hand car