Strategy an important factor, writes Andy McGechan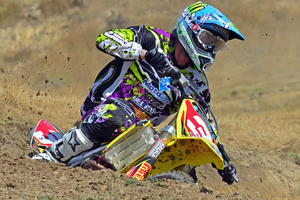 It is the Bay of Plenty versus the rest of the world. Two former Mount Maunganui flatmates and Moto City Suzuki team-mates will form the backbone of the three-rider squad to tackle the "Olympic Games of motocross" in Germany next month.
Cody Cooper and Rhys Carter will each ride the RM-Z450 model Suzuki bike at the Motocross of Nations (MXoN) at Teutschenthal, near Leipzig, on September 29.
The third Team New Zealand rider will be last year's Australian under-19 motocross champion Kayne Lamont, of Mangakino, who will ride a KTM motorcycle in the MX2 (250cc) section of the MXoN.
The Kiwi team will be hoping to improve on the No15 ranking achieved by Team New Zealand at the same event in Belgium last season and a plan of attack is being formulated to achieve that.
It is undecided whether New Zealand MX1 champion Cooper or MX2 regular Carter will have the team's MX1 (450cc) or MX3 (open class) role and the team manager, MXoN veteran Josh Coppins, of Motueka, said: "Sometimes, strategically, it is an advantage to list your No1 rider as the MX3 rider." That's so they could, potentially, avoid battling throughout the event with the No1 riders from some of the other nations.
Leading countries such as defending champion Germany, record 22-time winners the United States and perennial frontrunners Belgium, Italy and France, will tend to place their strongest rider in the MX1 class, while weaker teams might sacrifice points in one area as they try to gain them elsewhere.
The team from this year's host country, Germany, won in Belgium and will be bolstered by fervent home support this time around.
Runners-up last year were the trio from Belgium, with the United States squad taking third.
Coppins said he was excited to be team manager for the first time and was pleased with the calibre of riders he had to help choose from.
"It will be a first for Rhys to ride this event and it is a huge undertaking but we will be calling on the experienced Cooper to step up and make another huge effort as our lead rider."
Since leading Kiwi internationals such as Coppins, Tauranga's Ben Townley and Hawera's Daryl Hurley have retired from all overseas competition, New Zealand is now looking to the next wave of youth talent to step up. "I'd like to think that Team New Zealand can slip inside the top 10 this time around. That would be great," said Coppins.
New Zealand has been on the MXoN podium on three memorable occasions in recent times: at Foxhills, England, in 1998 (Darryll King, Shayne King and Josh Coppins); at Namur, Belgium, in 2001 (Daryl Hurley, Josh Coppins, Shayne King) and at Matterley Basin, England, in 2006 (Josh Coppins, Cody Cooper, Ben Townley).