High-octane test sorts out the chickens from the bull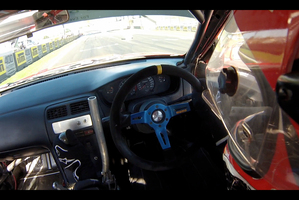 Trying to define just which motorsport discipline is fastest is not easy.
The gravel worshippers always carry on about how much more skill is involved in keeping a car on the dirt than driving on a circuit. Of course the touring car guys will disagree.
The drifters all think they're the future of motorsport even when this slippery style is not the fastest - a simple result courtesy of the laws of physics. Motorbike riders, wrapped in leather and all a bit daredevil, know motorcycles are hard to beat _ until there's a corner.
And what about wee go-karts _ they've held lap records at many circuits but don't have the straightline speed some of the big power machines do.
So we decided to get a group of racers, put them through their paces and film the whole thing for your viewing pleasure.
The Achilles Radial Battle of Motorsport was a little while ago, and we've managed to keep the winner a secret _ the drivers themselves don't even know who topped the
timesheets at our special course set up at Pukekohe Park Raceway.
Video partners Redline and we at Driven have produced this battle as a bit of a joint venture, it's presented by Ketzal Sterling, who many of you may remember from the successful High Octane series of DVDs.
Sterling might be mad as a meataxe, but he loves cars nearly as much as we do, and has a talent for coming up with weird ways to match up machines that aren't strictly speaking comparable.
For the Pukekohe escapade the challenge was relatively simple _ a lap around a slalom course set up, for some reason that only Sterling High-octane test sorts out speed can explain, with farmyard animals, before belting through the esses and sweeper and then giving it death up the back straight.
Each machine had its advantages and disadvantages, as you'll know, and the unofficial bookmaking going on proved you can't always count on big power or big grip when it comes to challenges like this.
To get our readers in on the action, there's a poll on nzherald.co.nz/driven which will let
you vote on who will win and then all will be revealed on Friday on nzherald.co.nz
We'll be hosting the video in its entirety, finally putting the competitors' minds at ease, and letting the backyard punters out there see how good their racing instinct is.
The surprising result of the first ever Redline Achilles Radial Battle of Motorsport is likely to send some of the competitors off to their respective sheds to contemplate whether their particular need for speed is best suited to the racing style they've chosen to pursue.
Follow us on Facebook: www.facebook.com/DrivenNZ