Having guests to stay on board is no hassle in this new Australian-built cruiser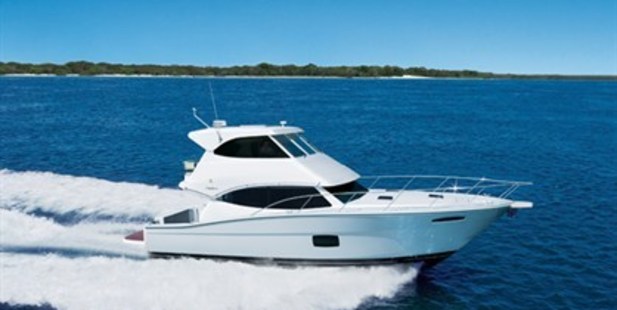 Astronomers searching for Earth-like planets pay particular attention to what they call the Goldilocks Zone. This is the area that is just the right distance from a suitable star so as to be neither too hot nor too cold to support life.
The equivalent in the boating world is the almost mystical perfect length, that size at which a boat ideally serves its intended purpose.
Iconoclastic yacht designer John Spencer was adamant that, for sailing dinghies, this perfect length was 14 feet (about 4.3 metres) and it seems there must be something special about that number 14. For, when it comes to mid-sized cruisers, it appears that 14 metres is just the right length, neither too big, nor too small.
Our friends across the Tasman certainly think so: they have taken to referring to the new Maritimo M45 as the Goldilocks boat and it is easy to see why. With an LOA (length over all) of 14.8 metres, the M45 is small enough to be easily handled by a single couple and large enough to accommodate a brace of friends, too.
The smallest boat in Maritimo's Motoryacht range, the M45 is based on the company's 2010 440 Offshore hull. However, a hull extension at the transom, a new deck design and a different superstructure make the similarities difficult to spot.
When first unveiled about a year ago, the M45 impressed many with its combination of reasonably high specifications and relatively modest price tag. For just shy of A$1 million, the M45 came with a choice of pod drives (complete with joystick steering) or shaft drives (with bow and stern thrusters), air conditioning throughout, generator, washing machine, Strataglass clears around the aft of the bridge and even a highly spec'd electronics package.
Owners can, of course, choose to upgrade or swap the electronics package to one of their choice, add a watermaker or, in the case of Andiamo, the first M45 to arrive here, install a Seakeeper M800 gyro (for an additional A$84,000).
Unlike with the 440 Offshore, on the M45 Maritimo has sensibly followed the "less is more" philosophy, resisting the temptation to overfill what is a reasonably modest amount of interior space.
We tried to cram too much into the 440, admits Greg Haines, the company's sales and marketing director. With the M45 featuring walkaround side decks yet having the same beam as the 440, it was not a mistake the company was going to make twice.
"With the M45, we have managed to deliver a boat with superior space and a layout that stays fresh and open, yet still has two generously-sized cabins, larger bathrooms, a bigger cockpit, longer flybridge and a more spacious saloon," says Haines.
It also has a high standard of finish. The timber - you have a choice of teak, cherry or beech - receives 13 coats of varnish before being installed alongside soft leather head linings and wall coverings.
Back when there were a number of New Zealand companies building boats like this, their interior layouts were generally constrained by having to accommodate a fully featured helm station in the saloon.
Maritimo's designers have sensibly placed the galley aft by the cockpit (opening the stacker doors removes any barrier between the two) and set two aft-facing L-shaped settees right forward, either side of the companionway down to the accommodation. The port hand one, which also partially surrounds the dinette table, has been set a little higher than its companion and thus gives great views out through the large side windows.
An entertainment and bar console is situated between the starboard settee and the galley and niftily features a flat screen TV mounted inside its lid. It is thus out of view when the lid is closed and easy to see from the dinette when open.
Access to the flybridge is via an internal staircase back opposite the galley. In recognition of most people's desire to be up here while under way (and often at rest, too), the flybridge is as much an entertainment centre as it is a helm station. Nevertheless, the skipper has in no way been neglected; the station features twin Pompanette swivelling helm seats and there is room for two 15 MFD screens.
There is also a large moulded GRP wet bar, complete with icemaker, a brace of swing teak tables and a wraparound lounger (which can convert to another double berth if required). The bridge has solid glass screens on the sides and front, Strataglass clears around the rear and a Webasto sliding sunroof overhead.
The clears and sunroof allow some measure of fresh air to make its way in, for those who want a change from the air conditioning.
There are two large cabins on the M45, either of which can be used as the master. The first is the fo'c'sle and features a traditional queen size island berth, a couple of clever fold-out trays for the morning tea or coffee and a generously sized en suite with full walk-in shower. The other, somewhat unusually for this sized vessel, is a full beam cabin under the saloon sole with the option of either a huge double berth or two singles, with an infill. There's also another lounger running fore and aft that can double as a third berth and a second en suite that also serves as the day head for guests.
The main feature of the cockpit, on the same level as the saloon, is a transom island module, complete with a deep fridge/freezer and barbecue. There is another fridge/freezer for'ard to port and there is access to the wide side decks on both sides.
For keen fishers, such as Andiamo's owner, there is a live bait tank under the port coaming, a proliferation of rod holders and space to mount a game chair.
Fitted with a pair of shaft-driven Cummins QSB5.9s each generating 480hp, Andiamo is capable of a top speed of 29.7 knots. Cruising at 3200 rpm gives 25.8 knots while burning 156.9 litres of diesel per hour (6.08 litres per nautical mile) with a safe cruising range of 266 nautical miles (easily enough to get from Auckland to the Bay of Islands and back).
Maritimo M45
Length: 14.8m
Beam: 4.68m
Draft: 1.1m
Displacement (dry): 15,500kg
Construction: FRP
Engines: two x Cummins QSB 5.9
Maximum speed: 29 knots
Cruising speed: 24 knots
Fuel capacity: 1800 litres
Water capacity: 400 litres
Base price: A$960,000
Want to know more? Check out the comprehensive boat test on the Maritimo M45 in the May/June issue of Pacific Powerboat magazine or at www.pacificpowerboat.com.