Sexy models show why we need to get over our aversion to MPVs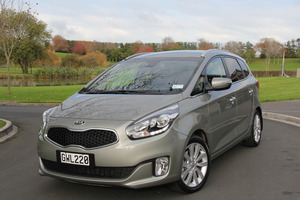 The Multi-Purpose Vehicle (MPV), also known as the people mover, is very popular in New Zealand - as a used car. And why not? These kinds of vehicles are designed around maximum cabin space and lots of flexible seating, so they're perfect family transport.
Actually, it's more correct to say that MPVs are very popular in New Zealand as used-import cars, because although there's demand among second-hand buyers there are very few fed through from the new-car market. People movers account for less than 1 per cent of new-car business in New Zealand - it's a genre that's simply not sexy to Kiwis. Seems we prefer our people-carrying vehicles to come in SUV form.
Why can't we get into MPVs? That's a mystery to so many, including motor industry people who try to market them. Most of us would agree that Europe is a fashion leader and over there, they love people movers: show me a small, medium or large car and I will show you an MPV derivative of it. The choice is bewildering and such vehicles account for up to 12 per cent of passenger-car sales, depending on the individual market.
Some New Zealand distributors persist with people movers, but they're often marketed here under pseudonyms. We're not sure anybody's fooled (the sales figures would suggest not), but that's another story.
So here are some spacious, versatile family vehicles that you might like to consider. Just don't mention that they're MPVs.
KIA CARENS
The new Kia Carens is a good-looking thing at a good price ($37,990). It also has a monoform body shape, a high roof and third-row seating, which is textbook MPV stuff. The previous Carens was certainly a people mover, although that's been away from the market for four years.
But Kia New Zealand insists Carens now fills the role of a Cerato wagon - partly because it doesn't have one of those, but partly because it has decided that the MPV tag would be anathema to potential buyers.
Carens is a good thing: nicely finished and good to drive, with a 2.0-litre engine. The middle row is split 40/20/40 and slides fore-aft; the third row is split 50/50 and folds away when not in use. You can even fold the front passenger seat down for really long items.
SSANGYONG STAVIC
You could convincingly say the previous SsangYong Stavic defied categorisation based purely on its styling: nobody was quite sure what the hell it was supposed to be. But it was still all about carrying people.
There's a new Stavic now, which is much less of an assault on the Honda Odyssey Dodge Journey Kia Carens Citroen Picasso eyeballs. SsangYong New Zealand describes it as a "crossover between an SUV and MPV", neatly combining one sexy acronym with one dirty one.
Stavic seats eight and starts at $39,990. The entry car is rear-drive, while the flagship has all-wheel drive. Power comes from a 2.0-litre diesel engine. The middle row of seating can be folded flat, while the third row can be stowed or simply removed to make the Stavic more SUV-like.
DODGE JOURNEY
The Journey continues to sell well in New Zealand - over 400 of the things last year. What's the secret? Local company literature refers to it as a "versatile crossover" although Journey makes no pretence towards any off-road ability - it looks SUV-like but sits low to the ground and is front-drive-only.
It might just be that Journey has the right combination of a macho brand and unapologetic on-road presence. Go for the R/T on standard 19-inch wheels and you could even argue that this stylish car projects an image of cool fun. "Cool fun" rhymes with "school run", by the way.
HONDA ODYSSEY
Back in 2004, Honda New Zealand rather famously launched the third-generation Odyssey by saying that we shouldn't try to categorise it. Instead, it insisted the media and public think of it simply as a "car".
You can see what they did there. In fact, the Odyssey was, and is, a groundbreaking MPV, eschewing the standard people-mover proportions for a low-slung body with reclined seating and a sporting ambience.
The fourth-generation model launched in 2009 keeps the low-rider look but has more head and legroom than its predecessor. Mind you, Honda New Zealand has now taken to calling it a "dynamic sports sedan".
TOYOTA PREVIA
The Toyota Previa is the elephant in the room. Especially if you order it in grey. Toyota New Zealand makes no apology for the Previa being a "dedicated people mover" and doesn't really have to. Previa has a ready fleet and rental market and it's still a highly regarded vehicle in those circles, with space to spare and seating for eight.
Been known to take the odd holiday snap from the side of the road as well.
CITROEN PICASSO
Newly appointed Citroen distributor Sime Darby is considering launching the all-new Picasso later this year, as soon as the vehicle starts right-hand drive production. It's one MPV that trades on high style and is just as up-to-date underneath: it rides on a brand new platform that also underpins the forthcoming Peugeot 308.
Picasso comes in both five and seven-seat versions. What it won't come with is any marketing spin about it being anything other than an MPV. Citroen divisional manager Simon Rose told journalists that Sime Darby has "no problem with what it [the Picasso] is."
Citroen is a niche brand with small volumes, so of course it can afford to be so boldly honest. But it's still a refreshing attitude.