Plenty of pulling power in Ford Kuga diesel crossover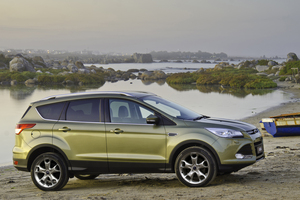 Ford's EcoBoost brand is so hot right now. A lot of column inches have been devoted to it, and that's not just because it's a catchy name. As Ford's global engine architecture, the same basic technology powers everything from superminis to hot hatches to SUVs. It does so with clever technology that extracts big outputs from small capacities.
Ford has been equally clever with its marketing, because it's made something potentially quite dull - an engine - into a glamorous standalone brand.
When choosing your new Ford Kuga crossover, it would surely be the natural thing to go for the 1.6-litre EcoBoost engine option. With 134kW/240Nm, it produces deeply impressive numbers for such a small powerplant, it's cool by association (the same base engine in the Fiesta ST produces the same numbers) and having tested it here at Driven, we can assure you it's crisp and suits the sporty character of the Kuga.
But it's not the best choice. The Kuga EcoBoost is a great car. But the Kuga TDCi is a fantastic car.
The TDCi is powered by a 2.0-litre diesel, but is otherwise identical spec-for-spec with the EcoBoost model. So it's really all down to the powertrain and in this case, I think the diesel really has it over the petrol.
At a basic level, the TDCi simply has more shove. With 120kW it's 14kW down on power, but it serves up 340Nm of torque at 2000rpm. In real-world driving, an extra 100Nm goes a long towards relaxed motoring and smooth overtaking. After all, it's enough to power an entire Mitsubishi Mirage.
Sprightly as the EcoBoost is, in combination with Ford's dual-clutch robotised transmission it also suffers from a few niggles. Under rapidly changing throttle it occasionally stumbles between gears, and it always seems keen to change up to the next ratio in the interests of economy. The EcoBoost is not short on torque - but it doesn't quite have enough to avoid that sensation that the car is sometimes labouring in its efforts to be a frugality fanatic.
The diesel addresses these issues beautifully. Because there's so much pulling power on tap, it takes much smaller throttle movements to achieve the same (or better) performance. That extra torque shrugs off the transmission's desire to hit sixth gear by the end of the driveway and the Kuga is a whole lot more satisfying as a result. For a family crossover, the Kuga does not disappoint for dynamic prowess. It's one of the sportiest cars in the segment and benefits from the same magic touch that makes the Fiesta and Focus such standout drives. Traction is part of the attraction with Kuga, which comes exclusively with all-wheel drive in New Zealand.
Choose the top-specification Titanium and the Kuga comes laden with goodies. Some are a bit gimmicky: Ford's Sync voice control is the best on the market, but still occasionally infuriating. And I still think it's tedious to wave your foot under the bumper to open the tailgate; especially when it's so slow to raise.
But the Titanium also has great stuff such as adaptive cruise control, lane departure warning and City Safe automatic collision avoidance technology. It parks itself too, which I should put in the same category as foot-activated tailgates, but in fact the system works brilliantly and I started to use it rather a lot when I had the car.
Perhaps I've said too much.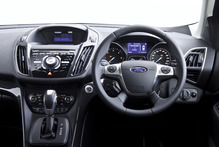 The only real downside to the Kuga TDCi is that there's a small price premium over the EcoBoost: $2000, taking our top-specification Titanium model to $54,990. With road-user charges taken into account, you'd still have to drive well over 100,000km to make up the difference based on official combined fuel consumption figures (7.7 litres versus 6.2 litres).
If it's any consolation, I think the real-world gap between the two is a bit wider than that. This is based purely on my own experience, but I struggled to get better than 8.5 litres per 100km out of the Kuga EcoBoost on a trip, whereas the TDCi did 6.5 litres all day.
Whatever. The Kuga TDCi is still the very best version of a very good compact crossover and it's worth the extra price premium.