A NART Spyder tops draw at US auction, reports Scott Reyburn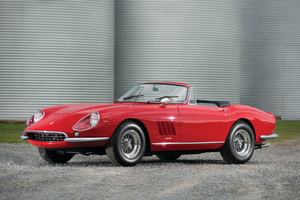 A Ferrari convertible of the type that Faye Dunaway drove in the 1968 movie The Thomas Crown Affair is tipped to sell for as much as US$20 million ($24.8 million) at an auction in California.
The 1967 Ferrari 275 GTB/4*S NART Spyder - one of only 10 built - has an estimate of US$14 million to US$17 million at RM Auctions in Monterey today.
Dealers said it was the standout lot in a series of sales on the West Coast that would also include high-value offerings from Gooding & Co and Bonhams.
"California sets the temperature of the market," Simon Kidston, founder of the Geneva-based classic car adviser Kidston, said.
"The rarest classic cars are selling extremely well and the prices are going in one direction. Ferraris have become the equivalent of Google stock."
This West Coast series follows a Bonhams event at Goodwood on July 12 that raised £36.1 million ($69.5 million), a record high for a classic-car auction in Europe.
The £19.6 million paid for a 1954 Mercedes-Benz W196 that Juan Manuel Fangio drove to two Grand Prix victories was a record for any car at a public sale.
"The NART Spyder is the car everyone wants," said Kidston. "It's only had one owner and never been on the market. They're so rare. I wouldn't be surprised if it made US$20 million with auction fees."
The 275 NART Spyder - named after the North American Racing Team - was the brainchild of Ferrari's North American importer, Luigi Chinetti.
"One of those red Italian things," is how Dunaway described an identical car in a scene in The Thomas Crown Affair.
Dunaway's co-star, Steve McQueen, bought one of the 10 models, as did North Carolina businessman Eddie Smith, whose family are the sellers at RM. The convertible would have cost about US$15,000 at the time.
Of the 120 cars being offered at RM's auction this weekend, 25 are expected to sell for more than US$1 million.
A 1953 Ferrari 375 MM Spyder commissioned by Jim Kimberly, heir to the Kimberly-Clark business empire, is valued at more than US$9 million.
Classic Ferrari racers from the 1950s and 1960s are the world's most consistently valuable motor cars.
A 1957 Ferrari 250 GT 14-Louvre Berlinetta is the highest-priced lot at Gooding's 10th anniversary auction at Pebble Beach this weekend.
It is one of only eight surviving examples, with a race history that includes a fourth in its class at the 1957 Mille Miglia, and its price is estimated at US$9 million to US$11 million.
Bonhams sale will include a 1931 Le Mans-specification 4.5-litre Supercharged Bentley "Blower". Owned by American collector Charles RJ Noble for more than 50 years, it is predicted to fetch up to US$5 million.
Although pre-war cars tend to be less fashionable investments than postwar Ferraris, another example of a Bentley "Blower", dating from 1929, sold for £5 million at a Bonhams "Goodwood Festival of Speed" auction in Sussex in June last year.
The racer could go as fast as 220km/h.
Last year's sales by Gooding & Co, RM Auctions and Bonhams in California raised more than US$220 million, a 33 per cent increase on 2011.