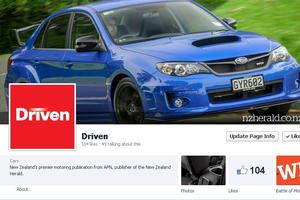 Technology is a wondrous thing - from ridiculously large television sets to cool tricks like Bluetooth audio streaming in the car, things are moving ahead at an alarming rate.
Remember back in the dark old days before the internet even existed? We all had VHS tapes of great racing stuff and shady copies of awesome videos like Rendezvous that were shared between mates and traded like Fonterra shares when the milk goes bad.
That era has thankfully long since passed, and now we can troll through YouTube watching mad AE86s drifting on Japanese mountain roads, rallying history from Heatway to Helsinki, Fangio's greatest moments at the F1 wheel and idiots crashing their AC Cobras to our hearts' content. No cheques posted to the other side of the world and a three-month wait to get the latest flick - these are good times to be a revhead with an internet connection.
Here at Driven we are often guilty of trolling the web for good, stupid or crazy car vids - it's all for research boss, honest it is - and figure that the best way to share them, and other interesting goings-on is by joining the Zuckerberg juggernaut.
Our Facebook page is now live (search DrivenNZ) and we'll be using it to show you some of the fun stuff we're getting up to, giving away some flashy prizes and sharing other snippets from the motoring world at large.
Don't worry, we're not in the business of annoying people with endless posts about what type of cereal we had for breakfast, what we think of John Key and will never, ever, post baby photos. It's a great way of getting a sneak peek of what's going on, as well as a good place to have conversations with like-minded folk about the things that are important to us. Like cars.
In keeping with this techy line, this week we've got a couple of Jags that were born 50 years apart - the wild new F-Type, which is probably one of the most beautiful cars we'll see released this year and the iconic E-Type which has been described as the greatest puller of crumpet that has ever existed. Like 'em or not, the Jaguar brand has undergone a staggering revival in recent years, thanks to Indian magnate Ratan Tata's takeover of Jag and Land Rover.
Times have certainly changed, with quality of design and engineering that has been decidedly absent from the brand for quite some time.
Contact us at nzherald.co.nz/driven, facebook.com/drivennz, or email driven@apn.co.nz