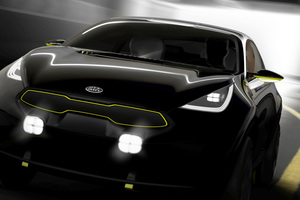 Kia is another company that will unveil a new, highly anticipated concept car at the Frankfurt motor show next month.
It has released two computer-generated images of what it says "hints at a possible future B-segment contender" that will star on its stand at the show.
Based on the Rio platform, Kia describes the KED 10 concept as "playful but gutsy, sturdy yet impish", with a design that is clearly aimed at European tastes yet would have worldwide appeal.
Kia goes on to say: "This concept car combines a mischievous character in a clearly robust and substantial, yet stylish bodyshape, featuring a mix of contrasting materials in compact, purposeful dimensions."
This is the third concept car based on a B-segment platform that Kia has released this year. The first was the Kia CUB 2+2 sporty hatch with rear "suicide doors" that was unveiled at the Seoul international motor show in Korea in March. That was quickly followed at the Geneva auto show by the Provo two-door hybrid coupe.
The Provo also sported similar conjoined bucket seats that are shown in one of the illustrations of the concept that will appear at Frankfurt on September 10.
"Intriguing," is how Todd McDonald, Kia NZ's general manager, describes the glimpses of the upcoming Frankfurt concept car.
"It follows the design path laid down by Peter Schreyer [Kia's chief design officer] with yet another interpretation of the Tiger Nose grille and the sleek sporting lines - it makes a very powerful and bold statement."
However, there is no word on when or if the KED 10 concept might become a reality. Kia says there are no current plans for production, but the unveiling in Frankfurt will be used to gauge potential customer response for future models. More details will be released when the concept goes on display.