Brisbane motoring writer Peter Atkinson takes Infiniti's luxury coupe for a spin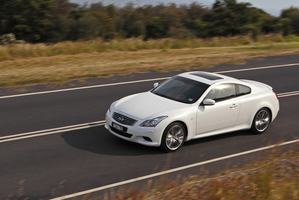 Superman had Clark Kent. Batman had Bruce Wayne.
And if the Nissan 370Z had an alter ego, the Infiniti G37 would be it.
The sleek, two-door offering by Nissan's luxury car division is like a grown-up, toned-down version of the cultish Zed car.
They share the same engine, for a start, and from the outside the family resemblance is unmistakable.
But for every bit as sporty and untamed as the 370Z is, the G37 is as luxurious and refined.
Still plenty of fun to drive, mind you - and certainly no hardship to look at. But it's as if the 370Z has been given a sensible haircut and been sent to elocution lessons.
Infiniti has made quite a splash since its belated introduction to Australia last year. Built in Japan but primarily for an American audience, the Infiniti brand was sold in more than 40 countries before parent company Nissan finally unveiled it in Australia.
Nissan is still working on when Infiniti arrives in New Zealand, but don't expect to see it until at least 2015. "There are no immediate plans for Infiniti in NZ at present, however it is on the radar as part of the longer term objectives," said Nissan NZ managing director John Manley.
But Nissan Australia hasn't wasted any time since its launch of the Infiniti brand, rolling out an impressive array of models including the excellent FX line of SUVs and M-series luxury sedans.
The G37 provides the sporty part of the Infiniti equation, although it arrives here a little further advanced in its model life than the two stablemates with which it shares Infiniti's opulent dealerships.
That's not an unusual scenario for start-up brands and the G37's age is apparent in some ways.
Still, it's impossible to fault the car's elegant design and very refined ride and performance.
That starts with the good 3.7-litre V6 it essentially shares with its cultish Nissan cousin, the 370Z.
The engine - also seen in other Nissan models including the Murano SUV - is a ripper, perennially ranked among the world's best. Without the angry rumble and sportier tune of the Zed car, the Infiniti's version nonetheless delivers sufficient punch to make this sleek coupe an invigorating thing to drive.
A beefy 360Nm of torque give it plenty of low-rev shove while the tacho will happily spin up to 7000rpm to unleash all of its 235 kilowatts. That means it will sprint to the speed limit in a brisk 5.9 seconds, which puts it in the thick of the performance coupe category.
A stubby gearshift lever, plus magnesium gearchange paddles on the chunky leather steering wheel, give the driver the option of choosing the ratios, although the seven-speed self-shifter does this job more than competently.
Yet despite its performance credentials the G37 delivers the kind of refinement we've come to expect from this marque.
Ride, while firm enough to inspire confidence in quick changes of direction, is beautifully compliant and the cabin is kept admirably free of road noise and engine roar.
While the cockpit feels a little less modern than those we admired in the FX and G series models we've tested, it's nonetheless a pleasant place to be. Sports seats are finished in supple leather and can be adjusted in 10 different directions at the push of a button. Seat heating comes standard.
The cockpit feels snug with all switchgear falling easily to hand. The exception is the comprehensive trip computer - which requires you to fumble for switches on the side of the instrument binnacle to scroll through the information.
Standard interior kit includes dual-zone climate control, power adjustable steering wheel, a classy analogue clock, auto-dimming rear-view mirror, glass sunroof, 7-inch colour touch screen with satellite navigation, a high-end Bose sound system featuring 10GB music box and 30GB hard-drive, as well as Bluetooth connectivity and audio streaming.
The sound system is particularly enjoyable inside what is a relatively confined space - although the Infiniti still manages to accommodate four passengers in relative comfort. Front seats move forward electrically to allow access for those in the two rear buckets.
The G37's cargo space is a less generous 275 litres - perhaps a drawback for golfers - although the rear seats fold flat to add some extra space for those two-person golfing excursions. One bugbear was the foot-operated parking brake - a nod to its primarily American market - but we found few other areas for complaint.
The G37 is complemented by a steel-roofed convertible variant - which sadly we're yet to drive and which adds about A$12,000 to the coupe's base cost.
Infiniti will offer both the coupe and convertible in two trim levels - the coupe starting at A$75,900 for the GT Premium, with the S Premium model adding another A$7600. The convertible starts at A$87,900 up to A$97,570.
The extra spend on the S Premium models delivers Infiniti's 4-Wheel Active Steering system - which the company claims improves agility and handling. Premium buyers also get bigger 19-inch wheels, Viscous Limited Slip Differential, sports suspension and upgraded brakes. All of which gives this coupe a distinctly sportier persona - not a world away from the 370Z. Mr Kent, meet Superman.
-AAP