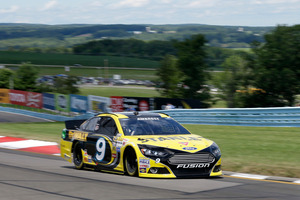 Marcos Ambrose had the fastest car and was on a track reminiscent of his days as a V8 Supercar champion in Australia, but he did not have the luck.
Ambrose's aim of making NASCAR Sprint Cup history with a third successive victory on New York's Watkins Glen International track ended in a crumpled mess against a barrier on Sunday, leaving the victory to Kyle Busch.
"It's not the way we wanted our day to finish," a disappointed Ambrose said.
Ambrose is still learning his way on the traditional oval NASCAR raceways, but licks his lips each year when the series moves to the Watkins Glen road circuit for the Cheez-It 355.
Ambrose, in a Ford Fusion, shattered the Sprint Cup track record on Saturday to win pole, then led 51 of the first 62 laps on Sunday.
His fortunes changed on the 60th lap when teammate Aric Almirola crashed, forcing a caution flag to go up.
Ambrose went to the pits and slipped back to 14th and Busch took the lead.
With six laps of the 90 lap race to go the Australian, in 12th position and his Ford struggling, was nudged from behind by Max Papis' Chevrolet and sent crashing into a wall.
The frustrated Tasmanian ripped off his steering wheel, climbed out of the car and then angrily threw his helmet at the Ford while Busch went on to win.
If the Launceston-born driver had won he would have joined Jeff Gordon and Mark Martin as the only NASCAR drivers to have won three consecutive times at Watkins Glen.
Fellow Tasmanian, Owen Kelly, in his first NASCAR Sprint Cup race, finished 24th.
-AAP