Limited models put high-tech to the test, writes Annika Graf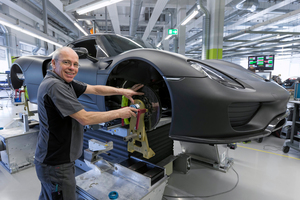 The air-conditioning hums and now and again the high-pitched whirr of a portable drill can be heard. At the Stuttgart plant where Porsche's new Spyder 918 sports car is due to be assembled, the atmosphere is much calmer than in most open-plan offices.
About 100 workers will be putting together the luxury car at the plant from September onwards - an exclusive production process where everything is done by hand.
This is the second time after the Carrera GT that Porsche has treated its customers to a bespoke luxury model. Just 918 of the Spyders will be made up until 2015 and each one will carry a price tag in excess of €770,000 ($1.29 million).
This is a pricey business - for Porsche too: "We are not building this car in order to achieve a high profit margin but in order to show just what technological heights we can scale," says production chief Michael Drolshagen.
In strict economic terms, projects like this one do not make sense. The development costs are just too high.
"When a manufacturer limits production to no more than 5000 cars, the issue of profit margins falls under the table," says car expert Peter Fuss, who works for the consultant firm Ernst & Young.
That has not stopped a range of carmakers from coming up with such image-boosting machinery. Daimler has the Mercedes SLS, Audi the largely handbuilt R8 and BMW is still tinkering with its electric sportster, the i8, due to break cover next year.
For manufacturers these limited-edition, range-topping cars offer a welcome opportunity to put cutting-edge technology to the test to gauge whether it can find its way into bread-and-butter models, says Fuss.
Among the innovations being tried out are air-suspension systems, advanced airbag technology or the use of carbon fibre as a construction material.
"In a way these are mini-laboratories for high-tech," says Fuss.
Porsche is trying out new materials in the Spyder 918. The centre console is made from the scratch-resistant Gorilla Glass which is used in many smartphones. Large sections of the cabin are fashioned from carbon fibre which actually looks like brushed aluminium.
The technical goodies are a way of retaining customer loyalty, says Drolshagen. "If this was just boutique stuff in order to keep look exclusive, it would not suffice."
Supercars used to be the epitome of gas-guzzling hedonism but modern versions often feature hybrid or electric power.
Porsche is slotting a frugal, petrol-electric hybrid driveline into the Spyder 918, a first for the car maker. The aim is to reduce C02 emissions drastically when compared with other high-performance models.
VW subsidiary Audi points out that the engine in the R8 is considerably more fuel-efficient than many in its class. At the same time the company says the sports car segment is small and has little effect on the C02 output of the entire range.
"These cars are, after all, not used on a daily basis," says a Lamborghini spokesman.
Porsche has taken a leaf out of the book already begun by luxury makers such as Bugatti, Ferrari or Lamborghini. At its factory in Alsace, VW-owned supercar-maker Bugatti puts together about 40 Veyron cars a year, many of them exclusive, bespoke commissions.
Ferrari has pegged production of its hybrid LaFerrari range to 499 vehicles. The model showcases many technical solutions which are set to find their way into future Ferrari models.
The upmarket producers are happy to satisfy special requests from customers.
"For instance, one client wanted the same unusual paint scheme which adorns his luxury yacht repeated on his Audi R8, naturally in tandem with customised leather seats and cabin fittings", says a VW spokesman.
Catering for customers in this way is mainly an image-booster for brands, says car expert Stefan Bratzel from the Centre of Automotive Management in Bergisch Gladbach. "The marque positions itself and there is a trickle-down effect to the other models," says Bratzel.
The ultra-luxury missiles are a rare sight on German roads. The few that are produced are usually shipped to the Middle East and other lucrative markets, says Ernst & Young expert Fuss.
Says Bratzel: "The customers for these are members of an elitist group and there is usually a sheikh or a multi-millionaire among them."