E-Class coupe and cabriolet show poise with plenty of zip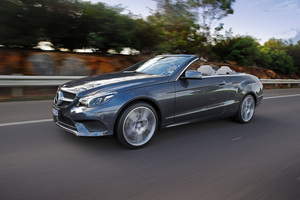 With the E-Class cabriolet and coupe launch starting at Mercedes-Benz Express dealership next to Melbourne airport, I was checking out the models for sale when a dealer approached me.
"Can I help you? Are you interested in a Mercedes?" she asked me.
In my business attire and being 40-something, I must have looked like a potential customer. But instead I had to assure the saleswoman I was there to write about the cabriolet not buy one - unfortunately.
With the launch last month in New Zealand of the E-Class sedan, Mercedes-Benz is now offering E250 and E400 petrol cabrio and coupe models plus an E250 diesel coupe. The company reckons Kiwis will favour the soft-top when it comes to sales.
The E250 petrol soft-top ($118,900) and coupe ($114,000) are powered by a 2-litre, four-cylinder direct-injection turbocharged engine offering 155kW and 350Nm.
The E3250 diesel coupe ($114,000) has a four-cylinder 2.1-litre engine (150kW/500Nm), while the E400 coupe ($131,000) and cabrio ($137,900) hit the road with a stonking 3-litre, six cylinder (245kW/480Nm) bi-turbo engine.
All the coupes and cabrios have a seven-speed auto system with eco and sport mode plus manual via steering wheel paddles. And like the E-Class sedan and estate, all have gear storks and automatic brakes.
All the new four-seaters sit on 19in alloys, and have the safety-conscious Driving Assistance packages that include distronic (where you are warned if you are tailgating), attention-level display on the instrument panel (that shows five stage bar), and 11 airbags.
To cope with the winter weather (with Melbourne boasting a high of 5C and drizzle during the launch this week), the cabrio has airscarf, a neck-level heating unit blowing three levels of heat at your head, plus heated leather seats. With them all on full bore and heating blasted at the feet and hands, a winter drive with the roof off was comfortable.
The E250 had elegance and a poised ride but behind the wheel of the E400 soft-top I let loose. That turbo engine is quick to kick in and even in economy mode trundles through the gears faster than you can say, "mein gott, take the roof off".
Whack it into sport and the gear ratio smartens up swiftly, though in manual I struggled at speed through corners as the paddles are attached to the wheel.
If you don't like cabrio's road noise surrounding then the E400 coupe is an admirable sports car - and there's a panoramic sunroof if you feel like fresh air.