Kiwi rues own strategy but shares delight in young mate's first victory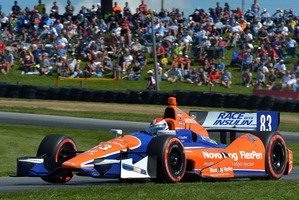 Last weekend's IndyCar race at Mid-Ohio didn't quite go according to plan for Kiwi driver Scott Dixon who was hoping to knock off his fourth straight win.
Picking the wrong pit stop strategy hindered Dixon and he had to settle for seventh.
He retained his second place in the championship but slipped to 31 points behind series leader Helio Castroneves.
"We kind of stuck with the two-stop strategy for too long," said Dixon. "I think if we were running up-front in the clean air we would have been able to hit the times we needed.
"Towards the end of the race we were just trying to get ourselves out of a hole, but by that part of the race it was just too late."
On another note, it was a brilliant day for another IndyCar driver who has a link with New Zealand. Race winner Charlie Kimball is the only licensed driver in the category who suffers from type 1 diabetes.
He's come a long way since the dark days of 2007, when he was diagnosed with the disease, to notch up his first IndyCar win in 45 starts. The 28-year-old reaffirmed Chip Ganassi's faith in him as the third team member alongside Indianapolis 500 and IRL winners Dario Franchitti and Dixon.
Kimball cut his teeth in open wheelers racing Formula Fords in New Zealand in 2004 with Jeremy Shaw's Team USA Scholarship outfit, winning a couple of races along the way. An extract from a race report from the Ruapuna round said: "Charlie Kimball stormed to a magnificent victory in the first of three Formula Ford Challenge Series races at Ruapuna Park Raceway. Kimball, who qualified fourth, took the lead from pole sitter Tim Edgell in opportunistic style midway through the 10-lap race and quickly asserted his superiority before taking the checkered flag."
Kimball has fond memories of his time in New Zealand and reckons it helped develop his race career in the early years.
"I have to say I always look fondly on the six weeks I spent racing in New Zealand on the South Island," Kimball told Driven after his Mid-Ohio win.
"It was part of the foundation for what I was able to do both in Europe and now back here in the US.
"Guys like Brian Herta and Jimmy Vasser were also Jeremy Shaw scholarship graduates and to go down to New Zealand and represent them was a great opportunity for me.
"While the racing was fantastic it was also a great chance to be in a completely different country, totally on my own, not be with my parents and experience the culture shock of living and racing on my own before I went over to Europe.
"I loved racing there and still cherish the experience very much. I look back on those photos and results and enjoy what they taught me and prepared me for.
"I can't think of a better place for a young driver to race and figure out if that's what they want to keep doing."
If you ask any sportsperson taking part in any sport at the elite level, getting your first breakthrough win is like punting that monkey well and truly off your back, and bodes well for gaining momentum for a string of top finishes. Kimball moved to inside the top 10 after his win and now sits eighth in the championship, just 25 points from muscling his way inside the top five.
"It's hard to even describe the race and my first IndyCar win with Novo Nordisk Chip Ganassi Racing. I'm just so happy for the team, so thankful for all of the support, and so glad to get that first win under my belt.
"It was a real team effort on both days to get the win, especially on Saturday when I had the big crash in practice. The crew did a great job to get the back-up car ready for me to go back out and qualify in fifth.
"We had a great strategy and the car was quick and all I had to do was hit the lap times they needed me to. Once out in front after the last stop, I just had to run clean to the finish."
For Kimball it might almost be like coming full circle racing with a New Zealand teammate at Ganassi Racing where Dixon has been for his entire IndyCar career.
"It's been great having Scott and Dario as teammates - they're true champions in every sense of the word. To be able to learn from Scott and figure out not just things on the racetrack, but how to be a successful professional IndyCar driver has been great. Scott's the right man to learn how to do it from properly."
Kimball has an additional hurdle to overcome in his diabetes. For him it's not just about having a perfectly prepared car in its optimum performance window, he has to make sure his body is just right to handle the rigours of racing at such high and demanding speeds on unforgiving race tracks.
"It takes a little more discipline and the challenge it takes to get things right makes me appreciate getting into the car that little bit more," he said. "When I was diagnosed I didn't think I would be able to go back to racing so it makes it a bit more special."
IndyCar series points table
1.Helio Castroneves 453
2.Scott Dixon 422
3.Ryan Hunter-Reay 388
4.Marco Andretti 377
5.Simon Pagenaud 350
6.Dario Franchitti 342
7.James Hinchcliffe 325
8.Charlie Kimball 325